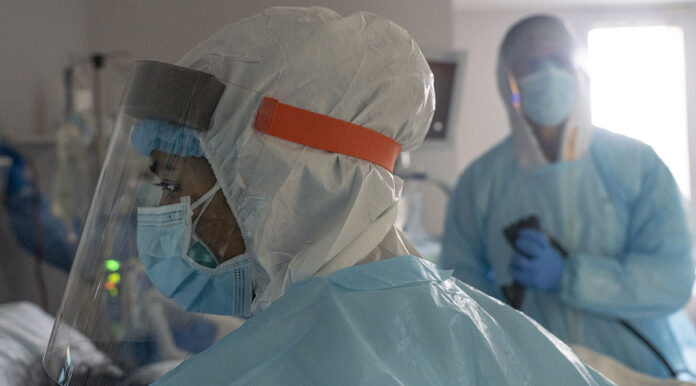 (USA Herald) – As an avid legal news contributor for USA Herald, I, Samuel Lopez, have come across a plethora of compelling cases. However, the ongoing dispute between a Milwaukee-based health system and an insurance company over COVID-19 expenses coverage is one that has truly captured my attention. Allow me to take you on a journey through this enthralling legal battle.
In the heart of the dispute, Ironshore Specialty Insurance Co., a unit of Liberty Mutual, has implored a New York federal judge to discard the bad faith claim brought forth by Froedtert Health Inc., a Milwaukee-based health system. The claimant, Froedtert, is seeking compensation for COVID-19-related expenses under its pollution policy.
Ironshore has categorically refuted the allegations, stating that Froedtert's claims lack substance and are nothing more than skeletal assertions. In their plea for partial judgment, Ironshore asserts that Froedtert's amended complaint, filed just last month, fails to meet the standards required for bad faith claims.
In the words of yours truly, Samuel Lopez, "A contentious legal battle lies ahead, but the pursuit of justice will prevail."
Ironshore further argues that Froedtert has not adequately identified any damages resulting from their alleged bad faith conduct. Instead, the health system merely highlights the $18 million it has spent on disinfection event expenses in response to COVID-19. Ironshore contends that these costs would have been incurred regardless of their coverage determination, as they were necessary for Froedtert to continue operating its hospitals during the pandemic.
Froedtert's amended complaint reveals that Ironshore has only covered a meager $43,000 of its disinfection event expenses – a far cry from the policy's limit of $10 million. Froedtert, the parent company of an extensive healthcare network comprising multiple hospitals and surgery centers, insists that each instance of COVID-19 contamination on its premises should be covered by Ironshore.
By September 2020, Froedtert had treated over 1,000 COVID-19 patients, necessitating the purchase of millions of dollars' worth of personal protective equipment, screening equipment, and cleaning supplies. By June 2020, their expenditures surpassed $10 million, eventually reaching over $18 million.
In a separate case, a Wisconsin federal judge dismissed Froedtert's suit seeking $85 million under its property insurance policy with Factory Mutual Insurance Co. Froedtert has since appealed that decision to the Seventh Circuit.
It is worth noting that about 52% of the 1,442 suits from policyholders against insurance companies seeking pandemic loss-related coverage have been permanently tossed by federal district courts across the nation. Meanwhile, 20% have been voluntarily dismissed, and approximately 25% have yet to be fully decided.
As the case of Froedtert Health Inc. et al. v. Ironshore Specialty Insurance Co. Inc. (case number 1:22-CV-10829) unfolds in the U.S. District Court for the Southern District of New York, the legal battle promises to be a gripping one.
If you found this article engaging and informative, I encourage you to like, comment, and share it with others. Your support fuels my passion for bringing the most captivating legal news to our readers. Let's stand together for policyholders and against bad faith conduct by insurance companies.