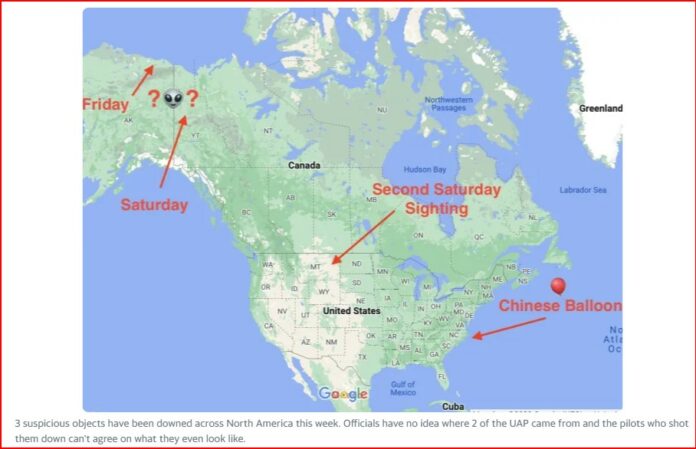 On Saturday, another high-flying unidentified object was shot down over Canadian airspace. This was the third high-altitude unknown object, shot down in North America in the last two weeks. And it may be an alien UFO.
It was described as "cylindrical," similar to the object shot down by the US over the Yukon on Friday. But very little detail was given.
The latest unidentified object or UFO was shot down over Canada today, Canadian Prime Minister Justin Trudeau wrote in a Saturday tweet.
I ordered the take down of an unidentified object that violated Canadian airspace. @NORADCommand shot down the object over the Yukon. Canadian and U.S. aircraft were scrambled, and a U.S. F-22 successfully fired at the object.

— Justin Trudeau (@JustinTrudeau) February 11, 2023
During the event, the U.S. Federal Aviation Administration issued an alert closing airspace over Havre, Montana. And according to Montana congressman, Matt Rosendale reopened it a short time later.
Can the Biden Admin please explain why they shot down two relatively small "objects" over Alaskan and Canadian airspace this week, but allowed a known Chinese Spy balloon to collect and transmit data about our country for a week before it was brought down? https://t.co/axShNBVMOv

— Matt Rosendale (@RepRosendale) February 11, 2023
Was the Yukon object an alien UFO?  
On Friday, the US takedown of a high-altitude flying object over the US caused similar controversy.