Three people died and more than a dozen injured after two buses collided at an intersection in New York City on Monday.
A New York City MTA bus and a tour bus crashed into each other at the intersection of Main Street and Northern Boulevard around 6:15 AM, according to officials.
New York City Mayor says the accident was tragic and shocking
During a press conference, New York City Mayor Bill de Blasio said the accident was "tragic."  The "sheer destruction" from the impact of the accident was "hard to compare and shocking."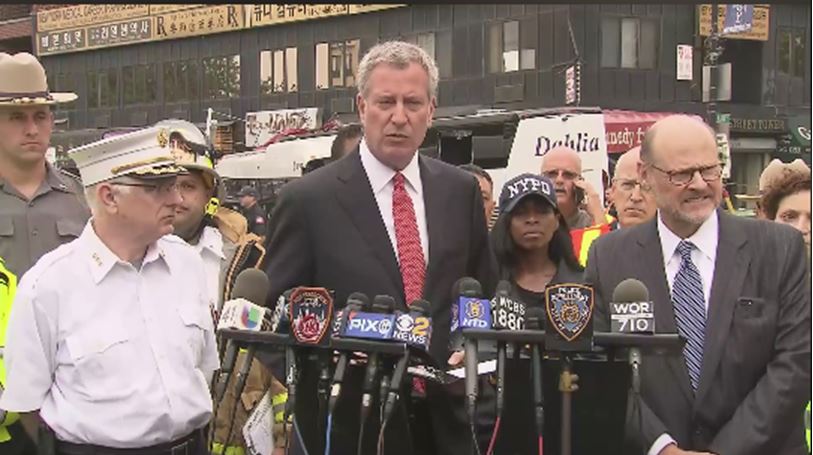 Mayor de Blasio said, "This is absolutely a very painful moment. I want to thank all of those who responded so quickly."
He confirmed that three people lost their lives including the coach driver, a pedestrian, and a passenger.  Sixteen people were injured.  Some of them are in critical condition. The MTA bus driver sustained non-life threatening injuries. He had been on the job for ten years.
Mayor de Blasio  also noted that a building near the bus collision sustained a "very substantial" impact from the collision. He added that authorities will make sure the building and the community is safe.
MTA will focus on safety 
On the other hand, MTA Chairman Joe Lhota stated, "It's a sad day when three fellow New Yorkers perished while getting to work."
Lhota also noted that the buses spun around. He expressed concern because an enormous speed is necessary for that to happen. He emphasized that the primary focus of their investigation is safety.
"We want to make sure we understand what happened and prevent this from ever happening again, said Lhota.
Dahlia Group, a company based Flushing owns the tour bus involved in the collision. Records from the Federal Motor Carrier Safety Administration showed that a Dahlia bus was also in a fatal accident in February last year.
Over the past 12 months, the company's drivers have been cited several times for safety violations including failure to obey traffic control device, speeding, and unlawful parking.