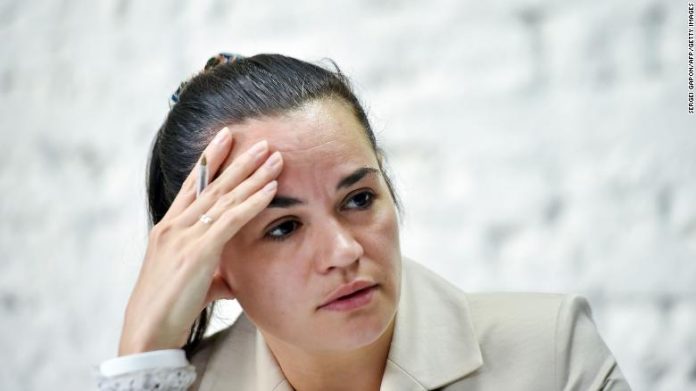 Belarus opposition leader, Svetlana Tikhanovskaya, has fled to Lithuania with her children following last weekend's election results which gave incumbent dictator Alexander Lukashenko 80% of the vote.
In a YouTube video, the defeated Tikhanovskaya explained that she made "a very difficult decision" and felt she had the gumption to stand up to Lukashenko. That all changed after opposition protesters violently clashed with regime authorities over the weekend.
In an earnest moment, Tikhanovskaya declared "I guess I'm still the weak woman that I was." This is a chilling turn of events for the opposition leader, who galvanized the opposition and became the face of a movement.
Tikhanovskaya's decision to flee Belarus is understandable. It was reported that Tikhanovskaya attempted to register a complaint on the election results, which led to her being detained for over 7 hours.
Another video of Tikhanovskaya has emerged, which reportedly was recorded prior to her leaving Belarus. In the video, Tikhanovskaya reads from a script and asks Belarusians to accept Lukashenko's "victory" and for people to stop protesting.
She goes on to plead to her supporters, "I ask you not to confront the police, or to go out onto city squares so as not to put your lives in danger. Look after yourselves and your loved ones."
It has been speculated that the video was recorded during Tikhanovskaya's detainment by authorities. Forcing political opponents to issue false statements in support of the regime is a standard maneuver in Lukashenko's playbook.
While Lukashenko claims to have achieved victory, opponents have argued that the election results are fraudulent, with multiple instances of electioneering occurring at polling stations across the country.
According to a report by Honest People, an independent election monitoring organization, over 5,096 election violations were witnessed by observers over the course of the weekend, effectively crushing any hope Svetlana Tikhanovskaya had stirred in Belarusians.
For Lukashenko, the weekend's results have given the dictator further impetus to maintain his grip on the presidency, even as protests continue throughout the country.
————————————————–
Have a story you want USA Herald to cover? Submit a tip here and if we think it's newsworthy, we'll follow up on it.
Want guaranteed coverage? We also offer contract journalism here.  Just be sure you're comfortable giving up editorial control, because our journalists are dogged and will follow the story through to it's conclusion. The story will be published to our exacting standards, without regard for your preferred slant.
Want to contribute a story? We also accept article submissions — check out our writer's guidelines here.