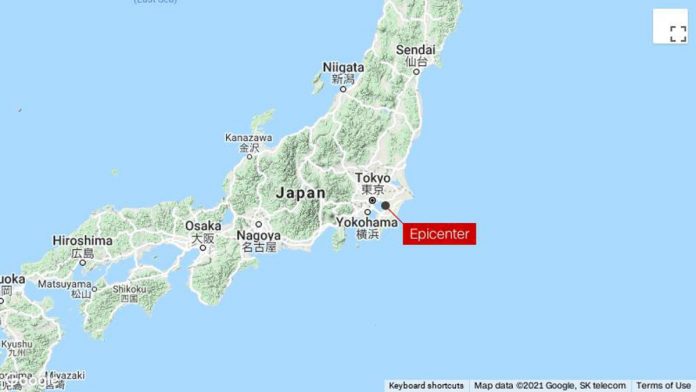 Thursday morning news reports are that a 5.9 magnitude earthquake struck close to Tokyo late Thursday. The Tokyo quake is the biggest impact earthquake to hit Japan's capital since the March 2011 disastrous tragedy.   
The 2011 quake killed 7 people in the capital. And it caused more than 15,000 deaths across Japan. It also stranded millions of commuters.
The Japan Meteorological Agency revised the magnitude from 6.1 to 5.9 overnight. Thursday's event had radiated for 75 kilometers or 46.6 miles. And it struck the northwestern part of Chiba prefecture around 10:41 p.m. local time. 
According to the Fire and Disaster Management Agency of Tokyo, more than 30 people have been injured.
Tokyo quake damage
Fuji Oil Co. was among the major companies that were disrupted by the quake. They issued a statement saying an oil refinery processing unit has been suspended after a fire. Before the fire was extinguished some damage was noted. And repairs are ongoing. 
Earthquakes frequently occur in Japan. But temblors of this magnitude are rare in the capital city.
 In parts of Tokyo, the intensity of the shaking was registering as 5+ on Japan's Shindo scale of 7. It was a reminder of the intensity felt after the March 2011 earthquake in Northeast Japan. 
TV and social media images showed flooding streets with water overflowing manholes. And train stations and commercial buildings were left without power. 
Although public transportation was temporarily disrupted, most transport services were restored by the morning. The subway system, both overground and bullet train services were temporarily suspended. And the Haneda airport was briefly closed in order to have safety checks on its runways. Some commuters still experienced significant delays during the morning rush hour.
Earth scientists and the Japanese government predict a 70% chance of an earthquake striking the heart of Tokyo in the next 30 years. And simulations forecast as many as 23,000 deaths are possible, in such an event.