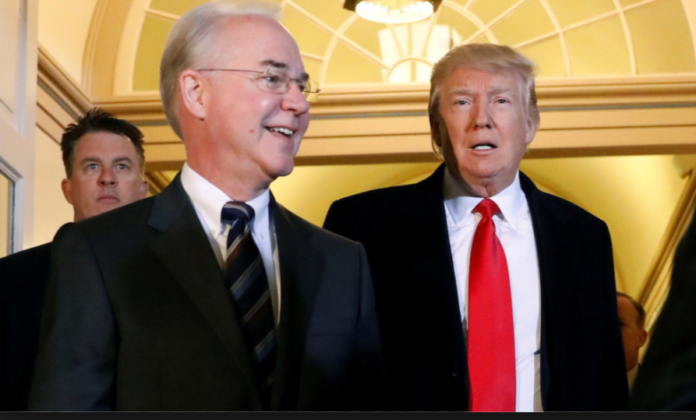 Mere moments ago, American's learned of (former) Health and Human Services Secretary Tom Price's resignation from his post.
What Prompted Price To Resign?
According to reports from CNBC, Price resigned due to a scandal over his private travel affairs. Apparently, Price choose to travel by expensive private plane on the taxpayers' dime, as opposed to flying commercial for significantly less money.
The White House released a statement, which very briefly detailed the nature of Price's exit from the Trump administration:
"Secretary of Health and Human Services Thomas Price offered his resignation earlier today and the President accepted."
Further Details and the Response From President Trump
Price's expensive air travel is not just recent. In June, he took a roundtrip flight from Washington to Tennessee which cost $17,760. Then, over a four day time period in September, Price racked up $60,000 worth of travel, despite the less expensive alternatives. However, Price also took the liberty of traveling overseas using military jets which amounted to over $500,000.
Americans have been highly critical of Price traveling so expensively on taxpayer dollars. Countless Twitter users censured the former Health and Human Services Secretary, stating that his decision to resign was proper and appropriate.
On Wednesday, September 27, President Trump stated he was "not happy" with Price's conduct and that he "let him know it."
On Thursday, September 28, Price extended his willingness to partially reimburse taxpayers for his travel expenses. He offered to pay $52,000 worth of the expenses he racked up, which many people felt was not enough.
The backlash against Price is so hefty in part due to his prior support of cutting government spending. Many people view it as ironic that he would engage in conduct he claims to oppose.
President Trump was also asked if he would fire Price, to which he responded, "we'll see."
Who Will Replace Tom Price?
Since Tom Price has stepped down as Health and Human Services Secretary, the position needs to be filled. The White House announced earlier that Don Wright, an HHS official, shall serve as the acting secretary.
New reports will follow when additional developments become available.