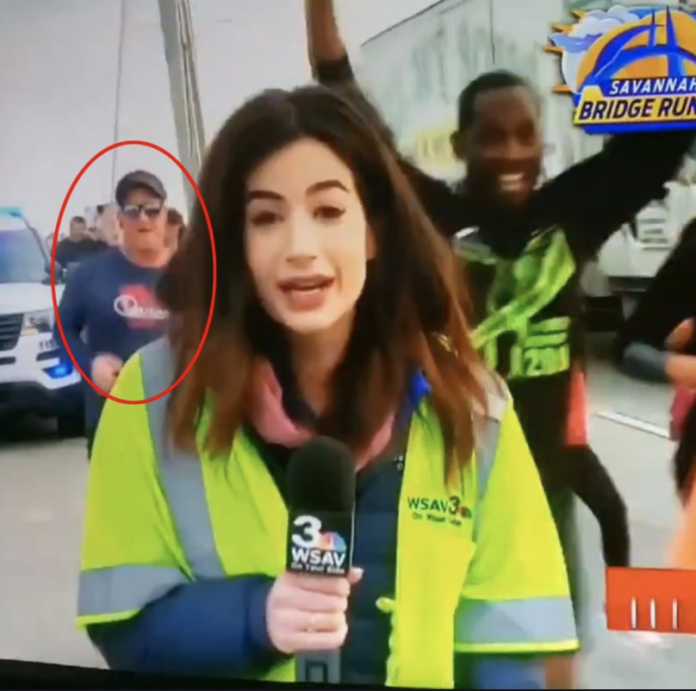 As a general rule, people should make a habit of keeping their hands to themselves. This can prevent a plethora of avoidable issues; unfortunately for Tommy Callaway, he had to learn this lesson the hard way.
Callaway, a married, 43-year-old father, youth minister, and Boy Scout leader made headlines during his time at the Savannah, Georgia Bridge Run earlier this month.
News reporter Alex Bozarjian covered the event live as various runners passed her by.
The man accused of slapping @wsavalexb's backside while she was on the air is telling his side of the story.

In an interview with @InsideEdition, 43-year-old Tommy Callaway says he went to wave to the camera and got caught up in the moment. pic.twitter.com/8zQsnZ7HWs

— CBS This Morning (@CBSThisMorning) December 11, 2019
For some unknown reason, Callaway decided that slapping Bozarjian on the rear end as he passed her by was appropriate. The footage of the incident shows the reporter clearly shaken and taken aback by what happened to her.
New developments confirm that authorities arrested and charged Tommy Callaway yesterday.
Everything You Need to Know About Callaway's Newfound Legal Issues
Due to Callaway's actions, he is now facing a sexual battery misdemeanor charge. After authorities took the married father into custody, Callaway paid $1,300 in bail money, prompting his subsequent release.
Since being held accountable for his actions, Tommy Callaway has attempted to minimize the situation and explain it away.
This youth minister and Boy Scout leader alleges that he felt "caught up in the moment." Shortly thereafter, Callaway contradicted himself by stating that he touched Bozarjian on the back and then claiming he didn't know precisely where he touched her.
In Callaway's own words:
"I was getting ready to bring my hands up and wave to the camera to the audience; there was a misjudge in character and decision making. I touched her back; I did not know exactly where I touched her."
The Statement from Alex Bozarjian and More
Following Callaway's sexual assault, Bozarjian released a public statement. The reporter rightfully slammed Callaway for his inappropriate behavior and furthermore told him to "do better."
To the man who smacked my butt on live TV this morning: You violated, objectified, and embarrassed me. No woman should EVER have to put up with this at work or anywhere!! Do better. https://t.co/PRLXkBY5hn

— Alex Bozarjian (@wsavalexb) December 7, 2019
Callaway's actions speak volumes about his character. His status as a married man, a father, and someone in a position of authority over children is also quite troubling, in light of his actions.
In the wake of the incident, some people have questioned whether or Callaway ought to maintain his jobs as a youth minister and Boy Scout leader. Thus far, Callaway has yet to express real remorse for his actions; instead, he's attempted to explain and justify himself, as seen in his statement above.