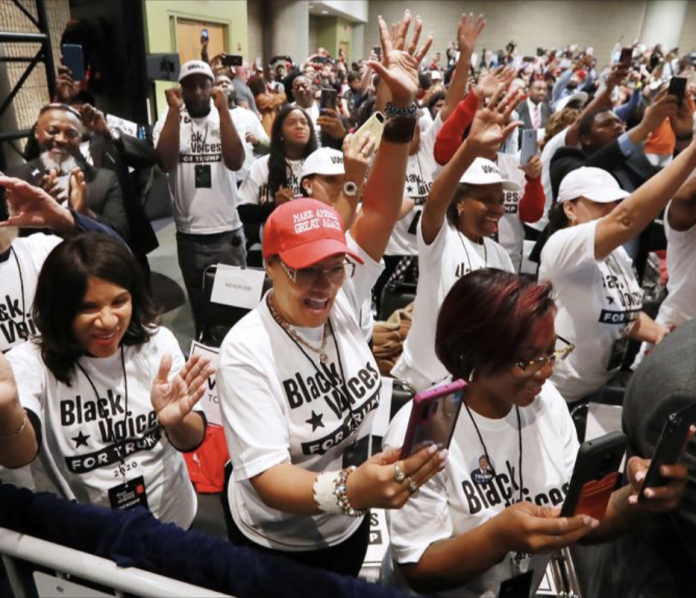 On Friday, the Trump 2020 re-election campaign kicked off a new coalition program in order to reach black voters. The president traveled to Atlanta, Georgia in order to convene with members and supporters of 'Black Voices for Trump.' 
Throughout the 2020 election, there's been a lot of talk about the black vote. In recent years, Democrats have taken heat for the manner in which they approach and treat black voters, notably during election season. 
Critics of Democrats additionally maintain that the left-wing takes the black vote for granted and feels entitled to it. 2020 Democrat Cory Booker recently declared that he was the "only one" with the ability to bring out the black vote in 2020. 
A Closer Look at the 'Black Voices for Trump' Coalition
During the 'Black Voices for Trump' coalition launch, President Trump spoke about his administration's various accomplishments and how these accomplishments have helped the black community. Some of the most relevant policies include the First Step Act, record low unemployment numbers, a stronger economy, and lower taxes. 
Before the president spoke, U.S. HUD Secretary Ben Carson introduced him. Carson thanked Trump's supporters for arriving and noted the manner in which Democrats criticize conservatives of color and Republicans of colors. The HUD secretary furthermore pushed back against individuals who accuse President Trump of racism. 
An excerpt of Carson's statements at the 'Black Voices for Trump' coalition reads as follows: 
"Thank you for your courage to be here. In the society that we live in today, it takes a lot of courage to say that you're supporting President Trump. Today they say if you are a conservative then you are somehow an Uncle Tom, you're a horrible person, you're a demon. What a bunch of crap."
Vice President Pence spoke as well, noting the manner in which President Trump's policies have aided the black community; Pence also discussed the historic contributions which African-Americans have made in this country. 
A Closer Look at President Trump's Remarks
When the president spoke, he called out the Democrat Party for their policies; he also noted the adverse impacts left-wing policies have on black communities. Shortly thereafter, Trump censured Democrats for their poor management of inner cities; many inner cities of today struggle with crime and other serious issues.