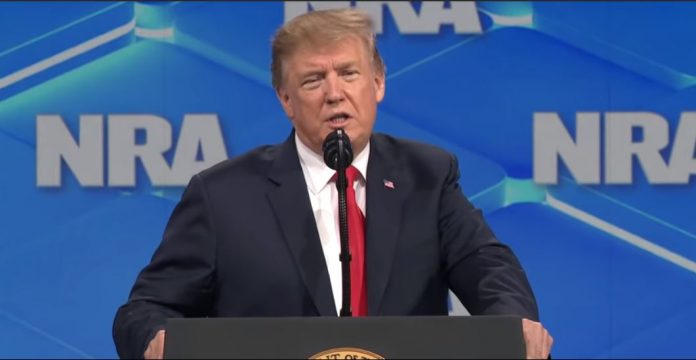 President Donald Trump accused New York Governor Andrew Cuomo and state Attorney General Letitia James of attempting to "destroy" the National Rifle Association (NRA).
In a tweet on Monday, Trump suggested that the New York's investigation into NRA is unlawful. He also encouraged the gun rights advocacy group to "stop the infighting."
The NRA is under siege by Cuomo and the New York State A.G., who are illegally using the State's legal apparatus to take down and destroy this very important organization, & others. It must get its act together quickly, stop the internal fighting, & get back to GREATNESS – FAST!

— Donald J. Trump (@realDonaldTrump) April 29, 2019
The President made his comments after the New York Attorney General's Office launched an investigation into the NRA. A spokesperson for AG James told NPR that subpoenas were issued to the organization.
In response to Trump, the New York Attorney General's Office said, "Attorney General Letitia James is focused on enforcing the rule of law. In any case we pursue, we will follow the facts wherever they may lead. We wish the President would share our respect for the law."
On the other hand, Gov. Cuomo tweeted that thousands of Americans died of gun violence and the President is not doing anything to address the problem. He added that New York is "not afraid to stand up to NRA."
President Trump: 74,600 Americans have died from gun violence since you were elected.

You have done nothing but tweet about it.

Unlike you, NY is not afraid to stand up to the NRA. As for the NRA, we'll remember them in our thoughts and prayers. https://t.co/zW5dUnH4IB

— Andrew Cuomo (@NYGovCuomo) April 29, 2019
Last year, the State of New York ordered the gun rights advocacy group to stop selling its "Carry Guard" insurance policy and to pay a penalty of $7 million for violating its laws.
NRA will "fully cooperate" with any investigation
Meanwhile, William A Brewer III, a lawyer representing NRA also released a statement regarding the probe. He said the gun rights advocacy group will "fully cooperate with any inquiry into its finances."
"The NRA is prepared for this, and has full confidence in its accounting practices and commitment to good governance."
The New York Attorney General's Office started a probe following reports that NRA's leadership mismanaged its finances for years. The report also prompted some prominent figures in the gun rights community to call for leadership changes in the organization.
On Saturday, NRA president Oliver North announced his decision step down. In a letter to the organization's membership, he noted that NRA's "not-profit is threatened" because of its "current situation."