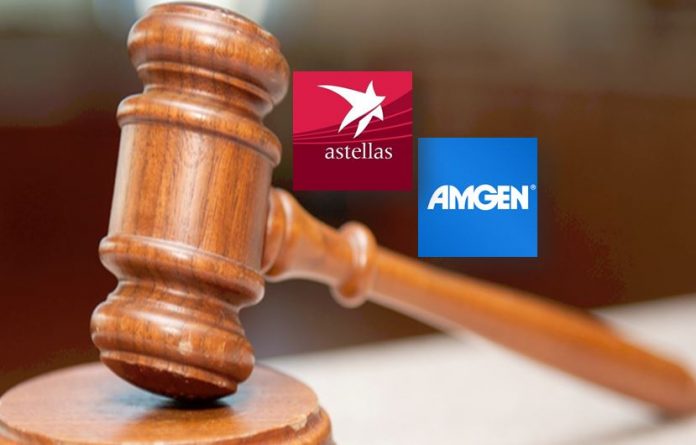 Amgen and Astellas Pharma US agreed to pay a total of $124.75 million to settle allegations that both pharmaceutical violated the False Claims Act and the Anti-Kickback Statute.
The United States government alleged Amgen and Astellas allegedly violated the laws by illegally paying Medicare copays for its own products and conspiring with two independent foundations.
The federal government's allegations against Amgen involved its drugs Sensipar and Kyprolis. The accusations against Astellas involved its medicine Xtandi.
Amgen agreed to pay $24.75 million while Astellas $100 million to resolve the federal government's complaint.
In a statement, Assistant Attorney General Jody Hunt of the Department of Justice's (DOJ) Civil Division, said, "When pharmaceutical companies use foundations to create funds that are used improperly to subsidize the copays of only their own drugs, it violates the law and undercuts a key safeguard against rising drug costs. These enforcement actions make clear that the government will hold accountable drug companies that directly or indirectly pay illegal kickbacks."
Allegations against Amgen involving Sensipar 
Amgen sells Sensipar, a drug for secondary hyperparathyroidism drug and Kyprolis, a treatment for multiple myeloma. It acquired Kyprolis from Onyx Pharmaceuticals in 2013.
The pharmaceutical company was a donor to a foundation providing financial support patients taking any of several secondary hyperparathyroidism drugs. However, it stopped donating to that foundation and approached another about creating a "Secondary Hyperparathyroidism" fund that would support only Sensipar patients, according to the DOJ.
Amgen and the new foundation worked together to determine the fund's coverage parameters. In November 2011, the foundation launched the Secondary Hyperparathyroidism fund and Amgen becomes its only donor. The fund covered Medicare co-pays for Sensipar patients only until June 2014.
The pharmaceutical company allegedly made payments to the fund. Amgen's payments were more than its cost of providing free Sensipar to financially needy patients. He fund submitted claims for Medicare co-pays that allowed Amgen o generate revenues, said the DOJ.
Allegations against Amgen involving Kyprolis
With respect to Kyprolis, the federal government alleged that its former owner, Onyx did the same thing. It asked a foundation to create a fund that would supposedly cover healthcare travel related expenses for patients taking any drug for multiple myeloma. However, Onyx used the fund to exclusively cover travel expenses for patients taking Kyprolis. It is the sole donor to the fund. In 2015, Onyx became part of Amgen, which continued donating to the fund.
The foundation also operated a second fund that covered copays for drugs for multiple myeloma including Kyprolis. In 2013, this fund provided data to Onyx regarding is anticipated and actual expenses for coverage of Kyprolis copays. It used the data to adjust its donations the fund, an amount just enough to cover copays for Kyprolis patients.
Allegations against Astellas involving Xtandi
Astellas sells Xtandi, an androgen receptor inhibitor (ARI) for the treatment for prostate cancer.
In May 2013, the pharmaceutical company allegedly asked two foundations to create funds to cover the copays for Medicare patients taking ARIs. . In July 2013, both foundations opened ARI-only copay funds and Astellas was the only donor to both funds.
In addition, Astellas allegedly knew that Xtandi will likely account for most of each fund's coverage. In fact, Medicare patients taking Xtandi received almost all of the copay assistance from both funds.
Furthermore, the pharmaceutical company allegedly promoted the funds to gain advantage for Xtandi over competing ARI drugs.
U.S. Attorney Andrew E. Lelling, commented, "Astellas and Amgen conspired with two copay foundations to create funds that functioned almost exclusively to benefit patients taking" both pharmaceutical companies' drugs.
"As a result, the companies' payments to the foundations were not 'donations,' but rather were kickbacks that undermined the structure of the Medicare program and illegally subsidized the high costs of the companies' drugs at the expense of American taxpayers. We will keep pursuing these cases until pharmaceutical companies stop engaging in this kind of behavior," he added.