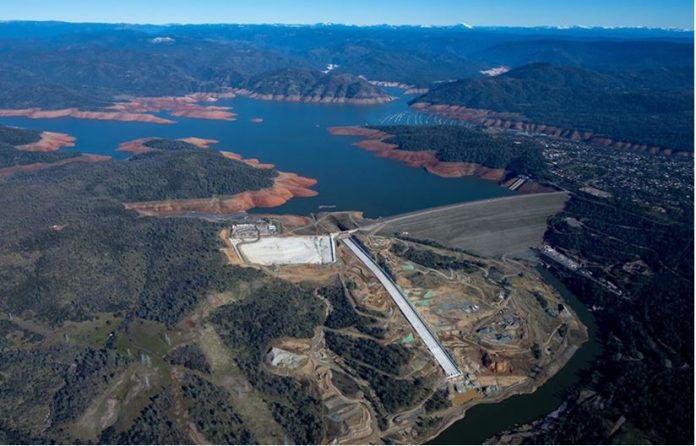 The Trump administration refused to reimburse the $306 million spent by California in repairing the flood control-spill ways of the Oroville Dam.
In 2017, heavy rains damaged Oroville Dam's emergency spillway, which prompted the evacuation of thousands of residents in the area due to fears of a possible flash flood.
The Oroville Dam is the tallest in the United States. The California Department of Water Resources (DWR) spent $1.1 billion to repair the damages in its emergency spillway last year.
DWR requested $639 million in reimbursement for the repairs to the Federal Emergency Management Agency (FEMA). However, the federal agency said it will only reimburse $205 million for the spillway repairs, in addition to the previously approved $128.4 million in reimbursement for emergency response, debris removal, etc.
In a statement, FEMA spokesperson Brandi Richard, explained, "Two separate independent engineering reviews indicate that a variety of problems existed at the dam prior to the February 2017 floods. FEMA's Public Assistance can only fund work directly linked to the declared disaster, and so the grant assistance request of $306.4 million was not approved for the upper gated spillway."
California to appeal FEMA's decision
On the other hand, DWR Deputy Director of State Water Project, Joel Ledesma told KRCR News that they will appeal FEMA's decision.
"We appreciate the hard work and commitment of FEMA staff, however we are disappointed in some of their initial interpretations regarding cost eligibility. "Our reconstruction work was necessary to safely operate the main spillway and ensure functionality of the emergency spillway. DWR plans to appeal FEMA's determination as we believe all costs should be eligible for federal reimbursement."
Meanwhile, Republican State Rep. Doug Lamalha of Richvale commented that FEMA's decision was not surprising. He said the repairs due to maintenance failures and the construction of new structures in the Oroville Dam are "ineligible for federal reimbursement."
"FEMA's decision not to fully reimburse DWR for Oroville Dam spillway repairs should not come as a total surprise. The U.S. Army Corps of Engineers and the Independent Forensic Report have both cited insufficient maintenance and initial design flaws as playing a part in the failure of the spillway. FEMA has reimbursed the state for eligible emergency repairs, but repairs due to maintenance failures as well as the new structures being built are ineligible for federal reimbursement legally," said Rep. Lamalha in a statement.