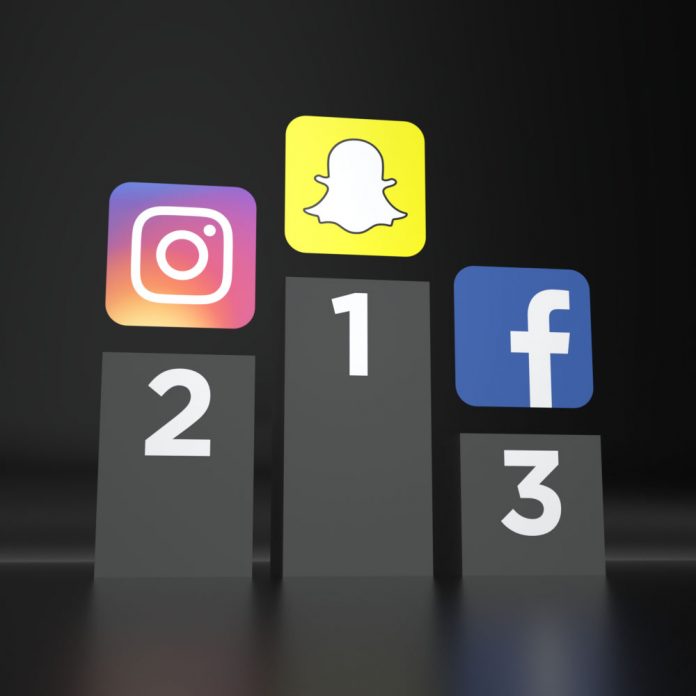 Don't look now, but Snapchat is making its move. The social media platform was highly regarded during its IPO in 2017 but has since been riding a rollercoaster of ups and downs which haven't produced great results thus far for investors.
It finally appears, however, that Snapchat is ready to show the digital world why it was once so highly thought of in the first place. Yes, the company has had to get over a public backlash against one of its platform updates last year. Yet, with a stronghold on a young demographic and an evolving product line, there is no reason why the value of SNAP cannot surpass $20 in the coming year.
Wrangling in young users
Since its creation, Snapchat has marketed itself toward young users. This has helped the company generate ad revenue for its bottom line. According to the company's Q4 2018 earnings announcement, "We reached over 70% of the total 13- to 34-year-old U.S. population with premium mobile video ads on a monthly basis." In fact, Snapchat has gained more market share in 18-24-year-olds than both Facebook and Instagram.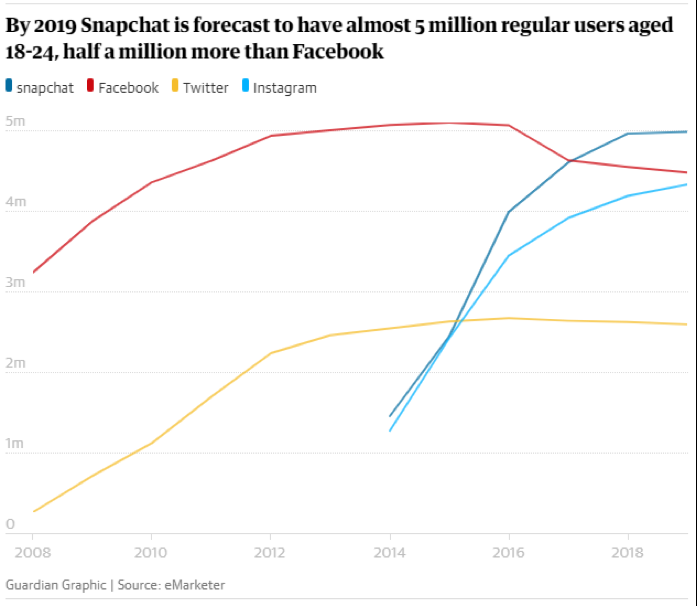 Garnering the attention of younger users is what keeps Facebook and Instagram up at night, seeing that Snapchat will likely eclipse their growth in the coming decade. In fact, the young generation is seemingly opting-out of Facebook altogether. According to Bill Fisher, senior analyst at eMarketer, "These so-called Facebook-nevers are eating into Facebook's user growth significantly. Many younger social network users are forgoing Facebook altogether in favor of more appealing mobile-first alternatives, such as Snapchat."
Don't forget that Facebook attempted to purchase Snapchat for $3 billion over five years ago. When the purchase didn't go through, Facebook began to copy many of Snapchat's features such as Stories, camera effects, and filters. In the meantime, the company is continuing to try and leverage its acquisition of Instagram to engage and build a younger consumer base. Yet, as the previous numbers indicate, it isn't doing such a great job. Clearly, Mark Zuckerberg sees the value and growth potential of Snapchat and what it has to offer young users.
A minor PR hiccup
A major reason why Snapchat lost users and revenue this past year was due to terrible reviews of a major platform update. One review in particular, from celebrity Kylie Jenner, was seen as a big reason why SNAP lost $1 billion in market value in a single day in February.
The company took a long-term viewpoint on the situation. In a statement, they said, "We completely understand the new Snapchat has felt uncomfortable for many. However, this new foundation is just the beginning and we will always listen closely to find new ways to make the service better for everyone."
Anytime a product undergoes changes its users are likely to be resistant. Since that time, Jenner has been using the platform and the ill-will the celebrity had toward the platform seems to have ended. As long as the changes made by Snapchat are for the longevity of the platform, this minor PR debacle will likely fade into the past.
Product fixes and expansion
Snapchat has worked to fix many of the issues that users such as Kylie Jenner have been disappointed with. For instance, the company has spent most of the past year re-tooling its Android app, which lagged behind the iOS version of the platform.
In other product news, Snapchat is doing more with augmented reality (AR) such as Lenses. It found over 70% of users viewed a Lens daily. By the end of last year, over 300,000 Lenses had been created and viewed a total of 35 billion times. In a new initiative the company calls Lens Challenges, users can create a Lens themed to a particular song, holiday, or event.
The company recently partnered with Amazon to allow users to identify an object or barcode directly in the Snapchat app and purchase the item on Amazon. In fact, one developer found code already embedded in Snapchat's current app which points to this "Visual Search" feature, meaning, its release may not be too far away.
Meanwhile, Snapchat is working to expand its platform outward to more users across the globe. Recently, it announced it will be beta testing in 8 new languages across Asia, with the majority of languages focused on the Indian market. This is a direct attack at Facebook, who already has more users in India than the United States.
Looking at the numbers
As of the beginning of March, the price of SNAP has been hovering around $10 per share. At this price, the total market capitalization of SNAP comes to about $13 billion.
Compared to the valuation of other social media platforms like Facebook ($490 billion) and Twitter ($24 billion), the value of SNAP in the current market is quite low. As SNAP continues to develop and grow its user base it has the opportunity to take market share away from these competitors.
At the time of its IPO, investors believed the valuation of SNAP was closer to $30 billion than what it is today. In fact, SNAP came in at an IPO price of $17 per share and began trading on the New York Stock Exchange (NYSE) at $24 per share, more than double its current valuation.
Additionally, the company's latest quarter earnings showed promise, with revenue and profit numbers exceeding analyst expectations. Revenue came in at $389.8 million while earnings per share (EPS) were quoted at a loss of $0.14 per share, a full $0.05 per share better than expected. As a result of its strong quarter SNAP rose 17% after releasing its earnings report.
There is no reason to believe that SNAP cannot once again attain the valuation that investors had previously put on the company just a few short years ago.

SNAP to $20
A share price of $20 would still put the valuation of Snapchat under $30 billion, a number which is certainly attainable for a company whose value hit $33 billion on its first trading day. By continuing to engage their young target demographic and continuing to iterate on its product, Snapchat is likely to continue pushing its value forward in the coming year. This makes it a great time to be a SNAP shareholder.