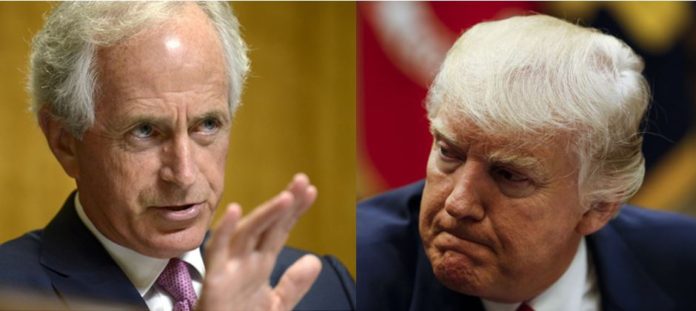 President Donald Trump expressed confidence that his escalating feud with Sen. Bob Corker will not jeopardize his tax reform agenda.
On Tuesday, Trump told White House reporters, "I don't think so. I don't think so at all," when asked if his spat with Corker would affect his tax reform effort.
The President added, "I think we're well on our way. The people of this country want tax cuts, they want lower taxes."
Many believe that Trump's dispute with Corker will complicate the efforts of the Republican Party to overhaul the country's tax system. Corker plays a critical role in the tax debate. He already stated his intention not to support a tax legislation that will increase the budget deficit.
Some Republicans are concerned about the spat
The Republican Party can only afford to lose two members to be able to still pass tax legislation. Republicans control the Senate by a narrow margin 52-48. Take note, a tiny discord within the Republican Party killed the effort to repeal Obamacare.
Some Republicans are worried that Trump's spat with Corker will alienate other Republican Party leaders. Senator Roy Blunt, a member of the Republican Party leadership encouraged Trump and Corker to stop their feud.
In an interview with CNN, Blunt said, "Both these people have important work to do. I'm supportive of both of them. I'd like to see it stop." He added that Trump and Corker should focus on doing their job "instead of talking about each other."
Trump intensifies attack on Corker
Despite the concerns of Republicans, Trump intensified his attack on Corker in another post on Twitter today.
The President tweeted, "The Failing @nytimes set Liddle' Bob Corker up by recording his conversation. Was made to sound a fool, and that's what I am dealing with!"
During the interview with the New York Times, Corker said Trump is treating the presidency like a "reality show" and his reckless threats could put the U.S. "on the path to World War III."
Corker made his comments after the President claimed on Sunday that he "begged" for his endorsement but declined. Trump also stated that the senator "didn't have the guts to run" and "largely responsible for the Iran deal."
The retiring senator fired back at Trump by saying the White House has" became an adult day care center" and "someone obviously missed their shift." His statement suggested that the President needs constant supervision.