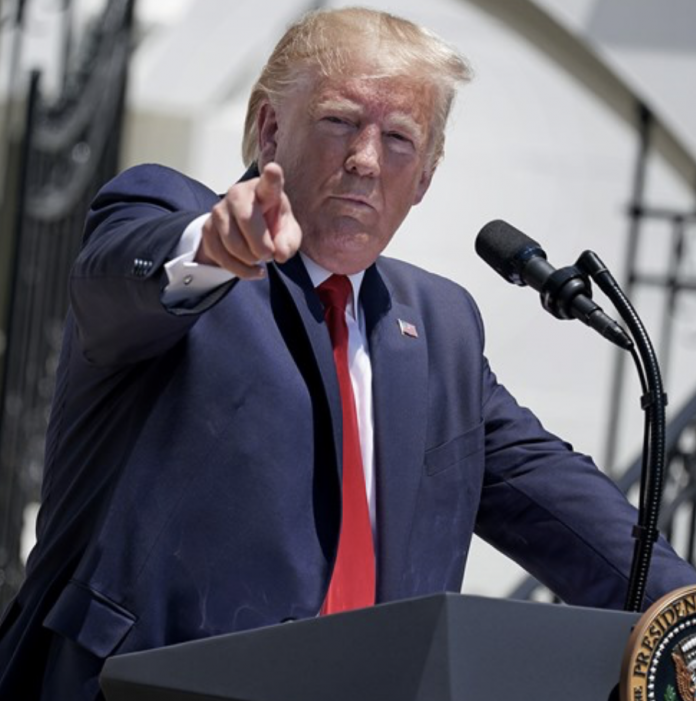 Earlier this morning, President Trump weighed on yet again on the freshmen Democrats which comprise "The Squad." The four members of this "Squad" are Reps. Ayanna Pressley, Rashida Tlaib, Alexandria Ocasio-Cortez, and Ilhan Omar. This morning's tweet serves as the latest saga in the ongoing feud between these four congresswomen and the commander-in-chief.
The President's Latest Take on "The Squad"
In President Trump's most recent tweet, he brands "The Squad" as racist and troublemaking. To support these claims, the president also noted the various controversial statements made by the aforementioned congresswomen, such as calling to abolish the Department of Homeland Security (DHS).
See for yourself:
The "Squad" is a very Racist group of troublemakers who are young, inexperienced, and not very smart. They are pulling the once great Democrat Party far left, and were against humanitarian aid at the Border…And are now against ICE and Homeland Security. So bad for our Country!

— Donald J. Trump (@realDonaldTrump) July 22, 2019
On Sunday, the president additionally stated via Twitter that "The Squad" lacks the capability to truly love America. Trump furthermore asserted that the policies which the four congresswomen favor and promote are harmful to the collective Democrat Party.
I don't believe the four Congresswomen are capable of loving our Country. They should apologize to America (and Israel) for the horrible (hateful) things they have said. They are destroying the Democrat Party, but are weak & insecure people who can never destroy our great Nation!

— Donald J. Trump (@realDonaldTrump) July 21, 2019
Statements from "The Squad"
Since the inception of Reps. Pressley, Tlaib, Omar, and Ocasio-Cortez's time in office, they have not hesitated to go after the president in various fashions.
Each of the congresswomen have referred to President Trump as racist and called for his impeachment. On Saturday, Omar declared via Twitter that the president's immigration endgame is to see black and brown people deported from America.
You all should end this charade and accept that this racist president wants every black/brown person deported and Muslims banned 🤦🏽‍♀️

His immigration policies say this much! https://t.co/B6czPntRn4

— Ilhan Omar (@IlhanMN) July 21, 2019
On Sunday, Rep. Ocasio-Cortez moreover replied to the president's assertion that she and the other 75% of "The Squad" lack the ability to love America:
We fight to guarantee:
– healthcare
– public college & student loan forgiveness
– enviro protections
– living wages
– basic human rights

We don't take a dime of corporate money, either.

You:
– Jack up drug prices
– Appoint Betsy DeVos to scam student loans
– Hurt immigrant kids https://t.co/bUsXt1h8uT

— Alexandria Ocasio-Cortez (@AOC) July 21, 2019
"The Squad" and Accusations of Socialism
In the president's tweet from this morning, he stated that the four congresswomen are pulling the Democrat Party to the radical far left. This is a concern which many other conservatives have articulated.
Policies such as Medicare-for-All, a Green New Deal, and abolishing Immigration and Customs Enforcement (ICE) are largely viewed as socialist. Furthermore, Democrat candidate Bernie Sanders has admitted that the success of Medicare-for-All will mandate raising taxes on the middle class. This is something which right-wingers view as problematic and in opposition to helping Americans.
Ultimately, "The Squad" and others who share their policies maintain that bold reform is necessary. They also believe that 2020 candidates who support their politics have the best chance of defeating President Trump.