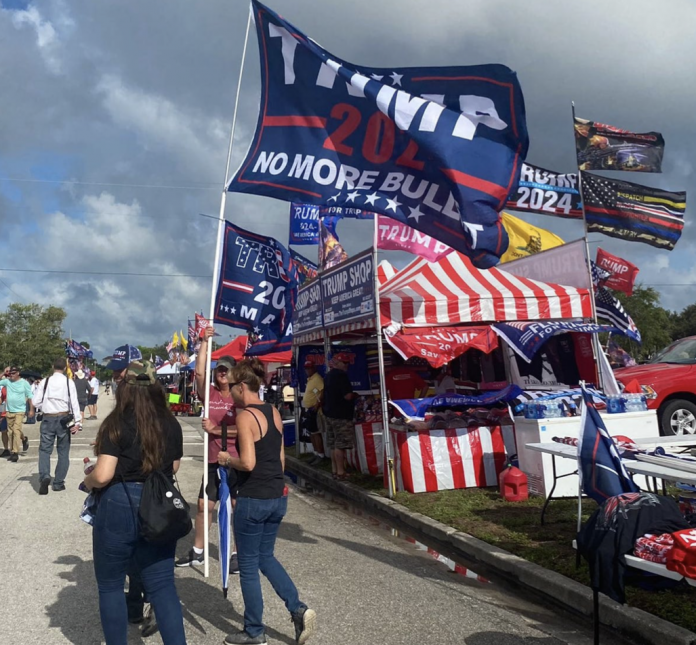 Between late 2015 and 2020, Trump rallies became and maintained as an iconic element of the 45th president's political brand. Trump rallies made headlines over the years for their massive turnout and the enthusiastic energy of the crowds.
After Biden took office earlier this year, some folks assumed that this marked the end of Trump rallies; however, as Americans now know, this assumption turned out to be drastically incorrect.
Even with Biden in office, Trump rallies are not going away anytime soon. In fact, the former president is on a Save America rally tour; Trump's latest stop, therefore, took him to Sarasota, Florida on Saturday.
The latest and greatest of the Trump Sarasota rally
In Florida, Trump supporters began camping outside of the rally venue days before Saturday; this is another common theme that is only associated with Trump rallies. Not a single politician has repeatedly gotten enthused supporters to camp outside, rain and all, days ahead of time to hear them speak.
When Trump arrived in Sarasota on Saturday, he spoke about several critical matters in American politics right now. The former president discussed the massive jump in illegal immigration, thanks to President Biden's open border policies. Trump also slammed Democrats for now trying to associate Republicans with the defund police movement.
The former president likened the leftist attempt to falsely tie the GOP to the anti-police movement as "disinformation"; Trump then warned that Democrats are now hoping that if they dishonestly accuse Republicans of wanting to defund the police, eventually the notion will stick.
Other matters covered by Trump in Sarasota last week involved new upticks of crime, the recent indictment of his Trump Organization, and the shadiness associated with the Biden family.
More Trump rallies to come?
Both Trump and his aides have confirmed that more rallies are coming. Sarasota was not the first stop on the former president's Save America tour; it most definitely will not be the last.
Americans looking to keep track of upcoming rallies should keep their eyes peeled for alerts from Trump's team and relevant press releases. The former president also maintains an active account on Gab.