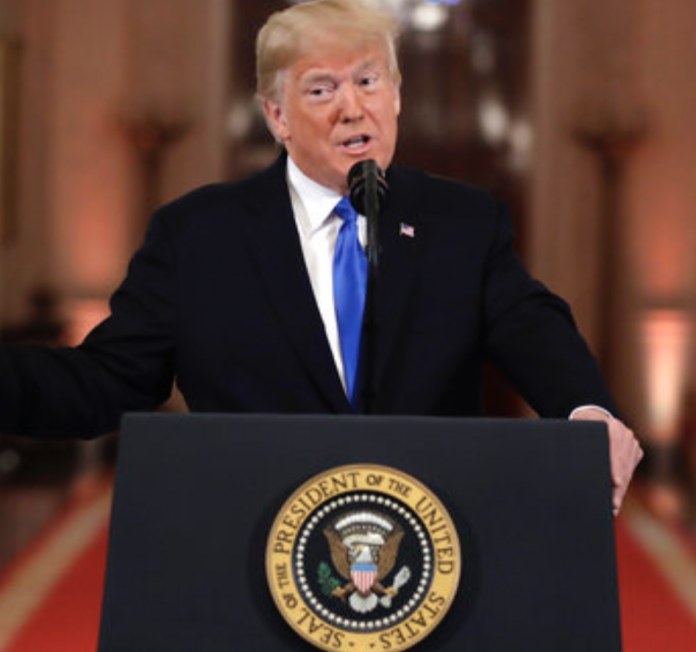 President Donald Trump announced his decision to deliver his State of the Union (SOTU) address when the partial government shutdown is over.
Speaker Nancy Pelosi sent a letter informing Trump that he cannot deliver his annual address in the House chamber on January 29 because of the shutdown.
In a lengthy tweet on Wednesday night, Trump wrote, "As the Shutdown was going on, [Speaker] Nancy Pelosi asked me to give the State of the Union Address. I agreed. She then changed her mind because of the Shutdown, suggesting a later date. This is her prerogative – I will do the Address when the Shutdown is over."
In addition, the President stated that he is not considering other locations for his speech.
"I am not looking for an alternative venue for the SOTU Address because there is no venue that can compete with the history, tradition and importance of the House Chamber. I look forward to giving a "great" State of the Union Address in the near future!"
Republican lawmakers suggested alternative locations for Trump's SOTU
Earlier Wednesday, Republican lawmakers suggested several alternative locations where Trump can deliver his SOTU.
Minority Whip Steve Scalise said the President could do it at the Superdome in New Orleans. Representative Rodney Davis recommended the Old State Capitol in Springfield. Representative Steve Stivers proposed that Trump should do it at the border where there are caravans of migrants.
Pelosi encourages Trump to support House-passed proposal to end shutdown
Meanwhile, Pelosi tweeted her response to Trump's decision late Wednesday. She wrote, "Mr. President, I hope by saying "near future" you mean you will support the House-passed package to #EndTheShutdown that the Senate will vote on tomorrow. Please accept this proposal so we can re-open government, repay our federal workers and then negotiate our differences."