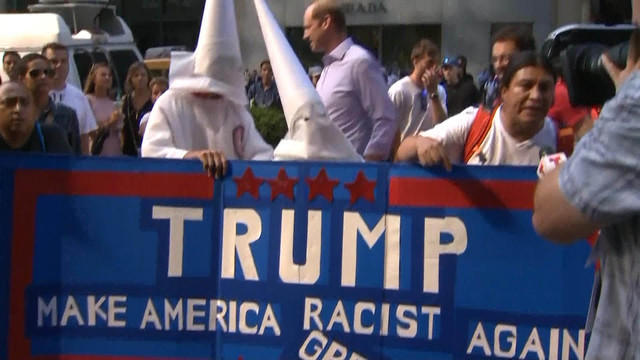 ormer President Trump took questions in a four-hour-long deposition on October 18th. Trump's deposition was a response to a 2015 lawsuit. The lawsuit was filed by 5 activists who dressed as KKK in front of Trump Tower.
The tactic of being dressed as KKK, to protest was used often, early in the presidential campaign by Democrat supporters.
In this case, a group of protesters filed suit in a New York state court alleging his security guards attacked them. The protest was held outside of Trump Tower during the U.S. presidential election. They named the security personnel, the Trump Organization, and the Trump campaign as defendants.
Trump, who was on the campaign trail, at the time of the incident, says the protestors had only themselves to blame. 
Activists dressed as KKK
"The case should never have been brought, as the plaintiffs have no one else to blame but themselves," Trump said. "Instead of protesting peacefully, the prosecutors deliberately tried to stir up a crowd by blocking the entrance to Trump Tower on 5th Avenue in the middle of the day, wearing Klu Klux Klan robes and hoods."