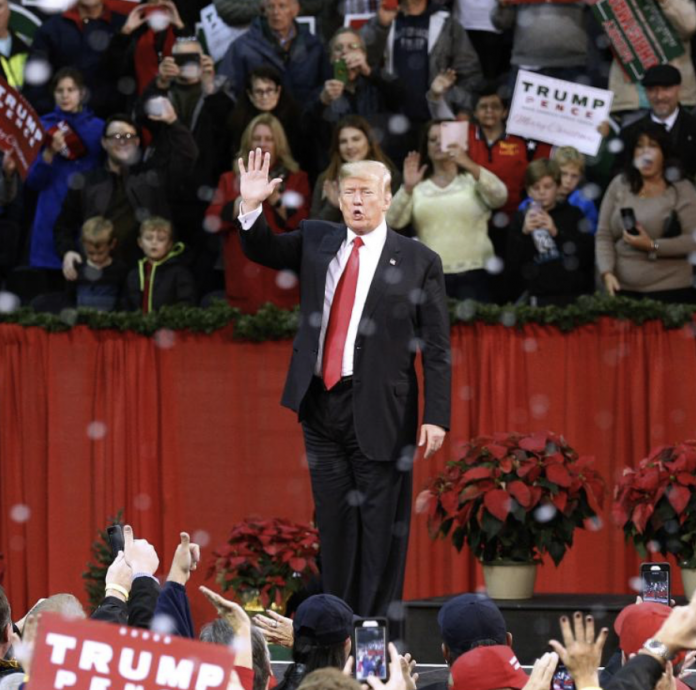 President Trump will hold a rally in Grand Rapids, Michigan today at 7:00 PM EST.
Everything You Need to Know about the Upcoming Rally
One of the reported topics of the president's rally will be the results of the Russia investigation. Mueller concluded the investigation last Friday and furthermore announced that no additional indictments will follow.
This served as a considerable disappointment for Democrats who eagerly anticipated the indictment and subsequent impeachment of President Trump. This is something which Republicans have largely criticized Democrats for.
Despite the results of Mueller's probe, some on the left are still questioning whether or not Trump colluded with the Russians. Others have flat out stated that the president colluded, yet managed to get away with it.
The reactions to the Mueller probe remain ongoing. The results have prompted celebrations from conservatives; many on the right-wing view the investigation's findings as confirmation of everything Trump has said all along.
Last night, the president shared his thoughts about the nearly-two long probe during a Fox News interview:
"We can never allow this treasonous — these treasonous acts to happen to another president. This was an attempted takeover of our government, of our country, an illegal takeover."
The 2020 Presidential Election
With the 2020 presidential election being right around the corner, this will likely play a role in tonight's rally. Trump is expected to discuss the merits of his re-election coupled with the shortcomings of his prospective opponents. His various presidential accomplishments, such as low employment and job creation, are also likely to come up tonight in Grand Rapids.
Healthcare
The president may wind up discussing healthcare during tonight's rally as well. This would come after Trump's recent declaration that the GOP will become the "party of healthcare."
Healthcare is currently a pivotal issue at this time in America. Democrats are now pushing for the eradication of private healthcare and the enaction of Medicate-for-All. Conservatives have noted that ending private healthcare would result in a loss of jobs for many Americans. Additional drawbacks of socialist-style healthcare include longer waiting times and a decrease in the quality of care.
Updates about the president's rally will follow on USA Herald.