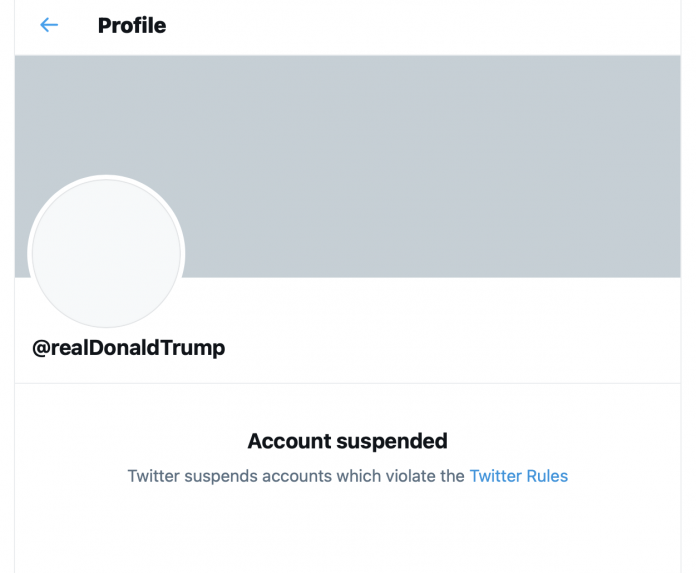 The storming of the U.S. Capitol on Wednesday, January 6 set off a chain reaction of events including calls for the immediate removal of President Donald Trump from office and a permanent ban on his Twitter account
Yesterday evening, President Trump delivered a concession speech from the White House. Trump noted that after exhausting every legal avenue to contest the election's results, his focus has now turned to a smooth power transition for Joe Biden to assume the presidency in 12 days.
Meanwhile, as House Democrats work to have Trump removed from office either via the 25th Amendment or impeachment, the 45th president is now permanently banned from using Twitter.
Why Twitter permanently banned Trump
Following riots on Capitol Hill, Facebook, Shopify, Instagram, Snapchat, and Twitter announced bans of Trump's accounts. The first four cited indefinite time periods; however, Twitter, at first, hit the president with only a 12-hour ban, provided that Trump remove certain tweets which the platform deemed as in violation of their terms and services.
The 45th president obliged; therefore, Twitter lifted the ban on his account after the aforementioned 12 hours. From there, the president posted a video of his concession speech on Thursday evening; then, earlier today, Trump announced that he would not attend the inauguration of Biden.
In the context of horrific events this week, we made it clear on Wednesday that additional violations of the Twitter Rules would potentially result in this very course of action. https://t.co/NrANZJcAfo

— Twitter Safety (@TwitterSafety) January 8, 2021
This, apparently, engendered the permanent suspension of Trump's Twitter account. The big tech platform stated that they believe recent, post-12-hour-ban tweets from Trump pose a threat for more violence. Twitter alleged that because Trump's tweets "could" be interpreted in manners that encourage violence from his supporters, leaving his account up poses too great a risk.
As of today, the 45th president of the United States is disallowed from using Twitter. Facebook and Instagram appear poised to follow suit, seeing as they've banned Trump from using their platforms "indefinitely.
Censorship of conservative speech
Conservatives and Trump supporters are not supportive of Twitter's decision to ban the 45th president; liberals, on the other hand, are loving it.
Trump's Twitter ban arrived at the same time that Apple pulled Parler from its App Store. Yesterday, Apple sent Parler a notice, demanding them to adjust their moderation rules within 24 hours or face deplatforming. Apple has joined the voices of those on the left who fault Parler users for Wednesday's disgraceful events in Washington D.C.
Have a story you want USA Herald to cover? Submit a tip here and if we think it's newsworthy, we'll follow up on it.
Want to contribute a story? We also accept article submissions – check out our writer's guidelines here.