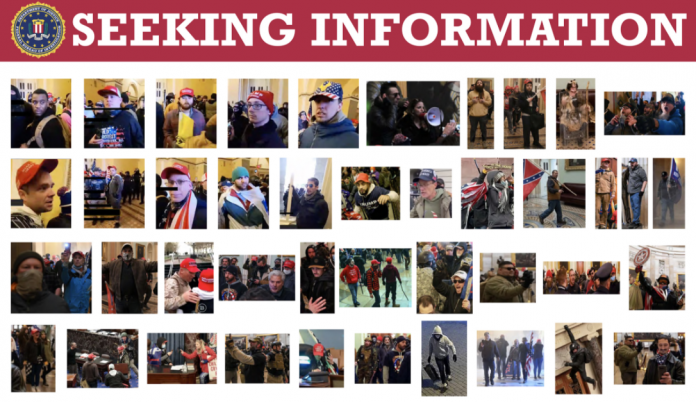 The Metropolitan Police Department (MPD) in Washington D.C. and the Federal Bureau of Investigation (FBI) released the photos persons of interest (POI) responsible for the U.S. Capitol insurrection on Wednesday, January 6.
The FBI deployed its full investigative resources and working closely with its federal, state, and local partners to aggressively pursue those involved in the U.S. Capitol insurrection.
The MPD is offering a $1,000 reward for information that will lead to the arrest and prosecution of these pro-Trump protestors who attacked the U.S. Capitol.
Below are the photos of the persons of interest involved in the U.S. Capitol insurrection, which was released by the MPD.
The FBI and the MPD are seeking for information for their arrests and prosecution.
Persons of Interest responsible for the insurrection at the US Capitol

FBI Director vowed that justice will be serve against those involved in the U.S. Capitol insurrection
In a statement, FBI Director Christopher Wray said, "The violence and destruction of property at the U.S. Capitol building yesterday showed a blatant and appalling disregard for our institutions of government and the orderly administration of the democratic process."
Director Wray added, "As we've said consistently, we do not tolerate violent agitators and extremists who use the guise of First Amendment-protected activity to incite violence and wreak havoc. Such behavior betrays the values of our democracy. Make no mistake: With our partners, we will hold accountable those who participated in yesterday's siege of the Capitol.
"We are determined to find those responsible and ensure justice is served," the FBI Director promised to the American people.
Pro-Trump protest became a mob attack
Pres. Donald Trump's supporters gathered at the U.S. Capitol on Wednesday to protest and stop  the congressional proceedings to certify Joe Biden as the winner in the November presidential election.
However, the pro-Trump protest became a mob attack, which many believe was incited by Pres. Trump and his personal lawyer Rudy Giuliani. The pro-Trump mob stormed and occupied the U.S. Capitol building for hours. The members of the Congress including Vice President Mike Pence were evacuated to an undisclosed location at the building.
Lawmakers were scared of being killed as they heard gun shots and saw shirtless, tattooed rioters filling the building. Police instructed lawmakers to shelter in place,  get the tear gas masks, and be ready.
"We were crouching down and going wherever the police thought that we'd be safest. We sort of made a run for it. I've been shot at, so I guess I've been in life-threatening situations, but not one involving the House floor of the most important democracy in the world," said Rep. Mike Quigley (D-Illinois) as quoted by USA Today.
Other lawmakers were prepared to fight back and protect the U.S. House of Representatives against the mob who are trying to breach its doors.
Republican Reps. Pat Fallon, Tony Gonzalez, Troy Nehls, all from Texas and others vowed to stay and fight.
In a post on Facebook, Rep. Fallon wrote, "The mob reached the actual doors to the House Chamber and there was visible concern on everyone's faces and yet we stood our ground. Tony Gonzalez and Troy Nehls were literally on the front lines with myself and Admiral Jackson directly behind them and beside Rep Mark Wayne Mullin (who promised he'd be the last person to leave-standing guard while other members, both Democrats & Republicans were being evacuated to safety) and Ken Buck from CO was there as well. We broke off furniture to make clubs to defend the US House of Representatives.
Ronny looked over at me and declared, "I'm not going anywhere!" Tony and Troy looked back and nodded reassuringly. I remembered what Tim Grunhard (a center at Notre Dame) would say before a big game at home in South Bend. So I repeated it, "This IS OUR House! And we're gonna protect it!!!" No one flinched. No one!!!"
"I serve with heroes. My Texas GOP colleagues have been my friends and now they are my heroes!!!"
Have a story you want USA Herald to cover? Submit a tip here and if we think it's newsworthy, we'll follow up on it.
Want to contribute a story? We also accept article submissions – check out our writer's guidelines here.