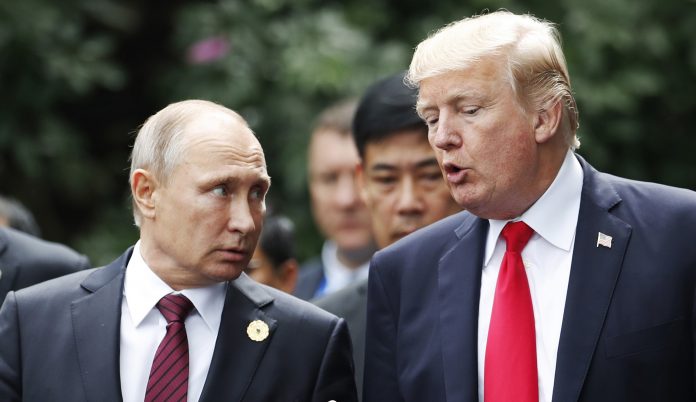 President Trump and Russian President Vladimir Putin have agreed to meet.
Occasion of the Meeting
Putin has long been critical of the U.S. The relationship between the two countries is currently the most strained it's been in over two decades. Relations might be warming, however. Yuri Ushakov is one of Putin's advisers. He said Wednesday that Putin has agreed to a meeting. Ushakov said they have decided where and when the summit will take place. The two governments will announce the details on Thursday. Ushakov, however, said that the meeting will neither be in Russia nor the U.S. but in a third, neutral country.
John Bolton is Trump's National Security Adviser. He is in Moscow now. He will be meeting with Sergey Lavrov, the Russian Foreign Minister on Wednesday. The two will lay the groundwork for the two Presidents to meet. It's possible that Bolton will also meet with President Putin while he is there.
President Putin did greet Bolton as he arrived. Putin acknowledged that his country's relationship with the U.S. is at a low point. He also noted that he thinks the difficulty is infighting between the U.S. political parties. He said that he does not want a confrontation with the U.S. and is ready to restore relations. Bolton complimented Putin's recent handling of the World Cup and asked for advice on the U.S. should host the event in 2026.
Dmitry Peskov is the spokesperson for President Putin. On Tuesday, he said that Bolton will meet with Russian officials to discuss three separate issues. They will focus on the relationship between the U.S. and Russia, international stability, and problems in Eastern Europe.
Questions from the American People:
Do Russians view political parties as inherently problematic? If so, how can both major American parties reassure Russian leaders of our goodwill?
How has the recent summit with North Korea affected Putin's willingness to meet? Will summits with North Korea and Russia start a trend of improved foreign relations?
How will the current trade war affect Trump's meeting with Putin?
Does Robert Mueller's "Russia Probe" investigation have anything to do with the upcoming meeting?