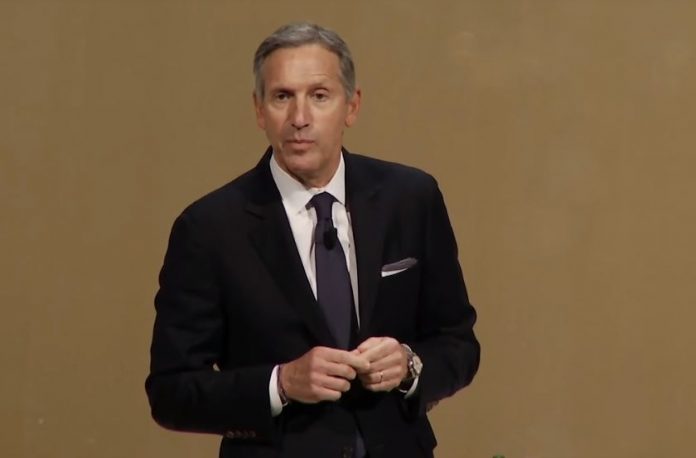 President Donald Trump slammed former Starbucks CEO Howard Schultz after the business tycoon confirmed that he is seriously considering the idea of running for president as an independent.
On Monday, Trump said Schultz doesn't have the courage to run for president and he agrees that he is "not the smartest person."
Howard Schultz doesn't have the "guts" to run for President! Watched him on @60Minutes last night and I agree with him that he is not the "smartest person." Besides, America already has that! I only hope that Starbucks is still paying me their rent in Trump Tower!

— Donald J. Trump (@realDonaldTrump) January 28, 2019
 The President's tweet comes after Schultz told CBS' Scott Pelley on 60 Minutes, "I am seriously thinking of running for president I will run as a centrist independent, outside of the two-party system."
Schultz is willing to spend what it takes to win the presidential election
The business tycoon also stated that Trump is "not qualified to be the president," which he believes one of the reasons "we're living at a most-fragile time."
Another reason is the fact that both the Democratic Party and the Republican Party "are consistently not doing what's necessary on behalf of the American people. Every single day both parties are engaged in revenge politics," said Schultz.
When asked if he is willing to spend what it takes to win the election and if he willing to release his tax returns, Schultz replied, "We'll, I'll say this way; we'll be fully resourced to do what's necessary. He is will not back off even if he will spend $300 to $500 million to win the election.
When it comes to his tax returns, Schultz is "100 percent" willing to release it. He said, "I will. We can to it today."
During the interview, the business tycoon said, "I have a long history of recognizing, I'm not the smartest person in the room, that in order to make great decisions about complex problems, I have to recruit and attract people who are smarter than me and more experienced, more skilled, and we've got to create an understanding that we need a creative debate in the room to make these kind of decisions."
Schultz will embrace good ideas from everyone
Furthermore, Schultz emphasized that he wants to see the United States and the American people win. He is willing to embrace good ideas from a Democrat, Independent, Libertarian, and Republican.
"Bring me your ideas and I will be an independent person, who will embrace those ideas, because I am not, in any way, in bed with a party," he said.
Moreover, Schultz criticized Trump's social media habits after Pelley suggested that Trump will "say terrible things" about him after the interview. He said, I think, like most people, I'm, I've become bored with President Trump and his tweets."