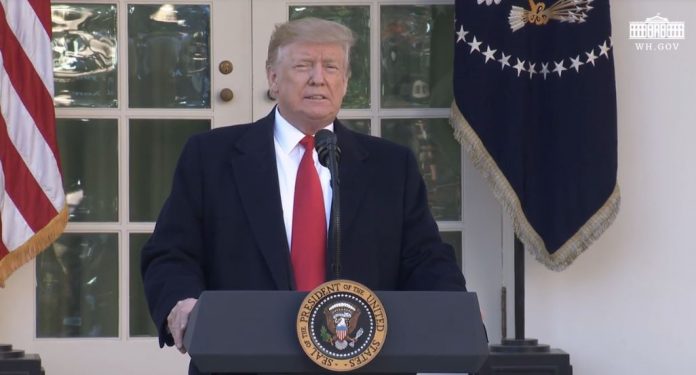 President Donald Trump will sign into law the bipartisan spending bill to present another government shutdown. He will also declare a national emergency to obtain additional funding to build a border wall.
On Thursday afternoon, the U.S. Senate passed the bipartisan spending bill. The House will vote on the legislation later in the evening.
In the Senate floor, Majority Leader Mitch McConnell (Republican-Kentucky) announced that he spoke with Trump and "indicated he's prepared to sign the bill."
In addition, McConnell said the President will "be issuing a national emergency declaration at the same time," which he's "going to support." It appears that the Senate Majority Leader change his position about a national emergency declaration. It was previously reported that he advised the president against an executive action to build a border wall.
Last month, several Republican Senators expressed serious concerns about a national emergency declaration. They believe that such action presents a "dangerous" precedent for future presidents. It could present constitutional problems and create political consequences for the GOP.
White House confirms national emergency declaration
Separately, White House Press Secretary Sarah Huckabee Sanders released a statement confirming McConnell's announcement.
"President Trump will sign the government funding bill, and as he has stated before, he will also take other executive action – including a national emergency – to ensure we stop the national security and humanitarian crisis at the border," said Sanders.
Additionally, Sanders stated that Trump is fulfilling his promise to the American people—"to build the wall, protect the border, and secure our great country."
The bipartisan spending bill will fund around 25 percent of the federal government until September 30. It includes $1.375 billion in funding to build 55 miles of physical barrier along the southern border. Trump demanded $5.7 billion in border wall funding.
Conservative lawmakers including Rep. Andy Biggs of Arizona slammed the spending bill as a "bipartisan failure." He called it a "crappy spending bill with this little border deal on the side."