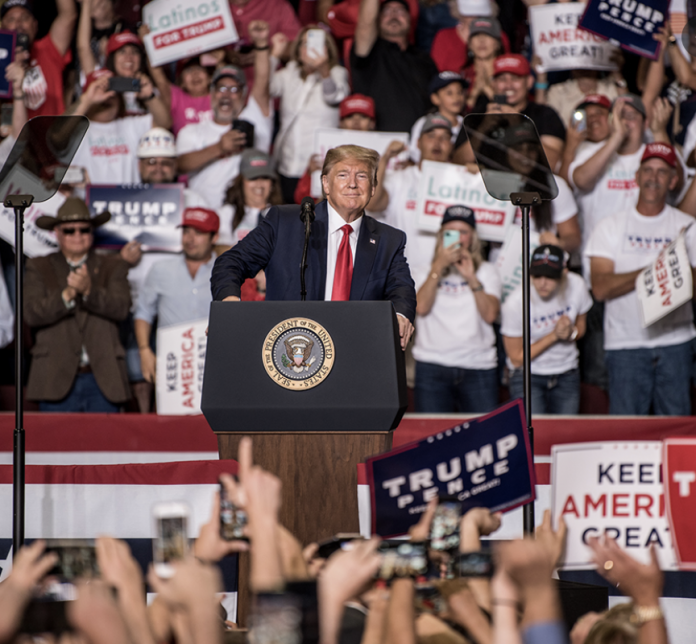 The politically-motivated impeachment inquiry has marked a new chapter in a feud between the president and House Speaker Nancy Pelosi. In the wake of the inquiry, the White House recently informed Pelosi that they won't be cooperative. The House Speaker didn't care too much for this and subsequently warned that President Trump will be "held accountable."
On Friday, the president spent time in Louisiana in order to further his 2020 presidential re-election campaign. During his time with supporters, Trump talked about the impeachment inquiry, its ramifications, and Speaker Pelosi.
Reviewing Trump's Commentary on Pelosi and the Impeachment Inquiry
When referencing the House Speaker, Trump first began by stating that he used to believe she loved America. The president then noted that he changed his mind after Pelosi's decision to move forward with the impeachment inquiry.
In Trump's own words:
"Nervous Nancy, I used to think she loved the country. She hates the country, she wouldn't be doing this to the country if she did. […] Nancy Pelosi hates the country, hates the United States of America."
The president furthermore censured the impeachment inquiry and the manner in which other countries will view America because of it.
"Foreign nations, foreign countries…they honestly think we're nuts. Then, you have presidents saying nothing was wrong, the president of the country…that's in question. […] [Nancy Pelosi] was angry as hell when she got to read the transcript because she said, 'wait a minute, that's not what I was told.'"
President Donald Trump doesn't hold back against House Speaker Nancy Pelosi. pic.twitter.com/l0WA4EQI8I

— Breitbart News (@BreitbartNews) October 12, 2019
More on the Feud Between Trump and Pelosi
Earlier this week, Pelosi censured the manner in which Trump has spoken about the Ukraine scandal and 2020 Democrat Joe Biden. The House Speaker stated that "children are listening" and that remarks the president has made are "beyond the pale."
It's unlikely that the animosity between Trump and Pelosi will die down anytime soon. The president has continued to maintain his innocence while the House Speaker sticks with her impeachment inquiry.
Trump and other Republicans have spoken out against Pelosi for attempting to undo the results of the 2016 election. Despite these claims, the House Speaker continues to allege that her only motivation is to protect the United States Constitution.