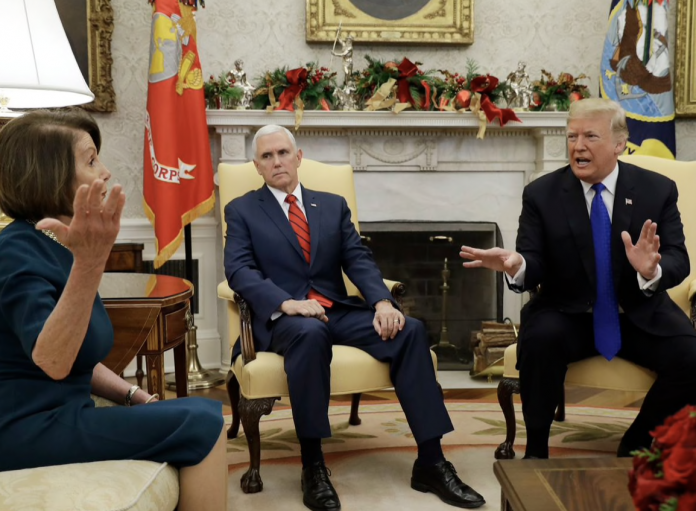 Earlier today, President Donald Trump engaged in a back-and-forth with Democratic leaders over appropriate measures for border security in the United States.
The Showdown in the Oval Office
In front of the press, the president debated with Nancy Pelosi and Chuck Schumer over border security. The back-and-forth comes as Congress faces the task of keeping the government open. Throughout the debate, President Trump expressed the importance of border security. However, while Pelosi and Schumer agreed upon the need for border security, their preferred methods of enforcement are vastly different from the president's.
Pelosi and Schumer furthermore pushed the president to get on board with legislation that does not include his border wall.
"There are no votes in the House, no majority votes, for a wall, no matter where you stand," Pelosi stated.
However, President Trump pushed back against this claim; Trump stated that while he could garner the needed House votes "in ten seconds," the success of the wall requires votes from Senate Democrats.
Talks Regarding the Shutdown of the Government
Trump, Pelosi, and Schumer continued in their conversation about appropriate measures for border security. Later in the debate, Schumer admonished Trump, claiming that "experts" determined that a wall along the Southern border is not effective. Towards the end, the trio's conversation diverged into talks about shutting down the government.
The president stated that the United States government will remain open "if we have border security." Shortly thereafter, Schumer took jabs at President Trump's note of the GOP's Senate victory.
After additional combative remarks from all parties, President Trump stated that border security must follow or the government will face a shutdown.
Controversy Regarding Border Security
Today's verbal sparring session reminded many Americans of the division between Republicans and Democrats. This division is extremely prevalent as it pertains to immigration and border security. The left and the right overwhelmingly maintain different ideas of proper protection. Thus far, neither parties have reached common ground.
Shortly after the showdown in the Oval Office, Schumer and Pelosi delivered remarks to the press. The Democratic leaders accused President Trump of "throwing a temper tantrum." They also stated that if a shutdown occurs, the president is to blame.
President Trump, however, does not see it this way. The White House and Congress have frequently battled one another regarding funding for the wall. The president's critics have also noted prior claims that Mexico will pay for the wall.
At this time, certainty of the forthcoming functionality of the government remains unclear. Additional updates will follow as new developments arise.