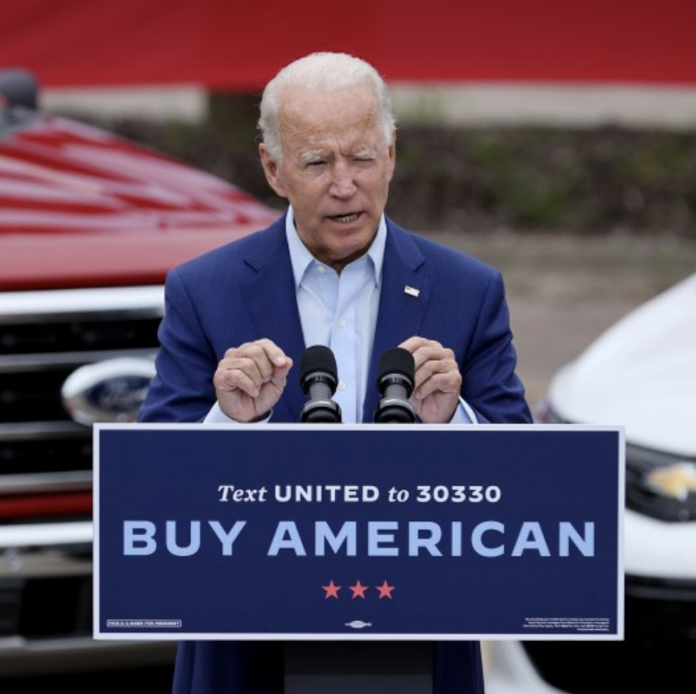 Former Vice President and Democratic presidential candidate Joe Biden visited Warren, Michigan to give a campaign speech on Wednesday.
The theme of Biden's remarks centered around the decision to "buy American." As Biden spoke, he talked about the economy. However, Trump supporters weren't convinced about the sincerity of the Democratic presidential hopeful.
Biden, confronted on his vote for NAFTA by a Michigan reporter, refuses to take responsibility for his vote and then blames George Bush.

Real leadership, folks! pic.twitter.com/SdZU8pZMXc

— Andrew Clark (@AndrewHClark) September 9, 2020
Biden's 2013 trip to China with his son Hunter has come under scrutiny last year amid revelations regarding President Donald Trump's efforts to find information to support his allegations that his political opponent is corrupt, which remains unproven. Likewise, his previous promise to prohibit fracking is also a turn-off to many Americans.
Earlier this week, Trump supporters made their voices heard by peacefully demonstrating outside of the arena where Biden spoke.
Why did Trump supporters greet Biden in Michigan?
Upon the former Vice President's arrival in the Wolverine State, Trump supporters greeted him. Fans of the president carried American flags and pro-Trump signs while eagerly chanting for "four more years."
Watch: Joe Biden arrives in Michigan and is greeted by a crowd of… Trump supporters! pic.twitter.com/H2f49nSbor

— TV News HQ (@TVNewsHQ) September 9, 2020
When speaking with members of the media, Trump supporters didn't hesitate to articulate their reasons for upstaging Biden's event. Pro-Trump Michiganders explained that they love the President's work for the nation. Moreover, Trump supporters expressed concerns that the Democratic presidential candidate is a puppet of China and the radical left.
Hiding from the American People?
Trump supporters also took issue with the nature in which Biden went about setting up the speaking event. While the former Vice President did, in fact, speak in real-time but there was no crowd.
Now, the Biden campaign asserted that COVID-19 is the reason for a lack of real-time attendees. However, Trump supporters believe that the real culprit lies elsewhere.
During talks with the press, Trump's supporters slammed the Democratic presidential candidate for "[hiding] from the people." They also claimed that Biden seeks to hide from Americans because he does not truly represent them.
Biden's decision to speak without an in-person audience marks a significant contrast from President Trump. On multiple occasions this week, the President has traveled to several states. During his visits, he spoke before huge and wildly enthusiastic crowds of Americans.
Like other conservatives, the President has taken aim at Biden's dialed back method of campaigning. Trump also maintains that jobs, communities, law enforcement, the economy, and more will perish if he is not re-elected.
————————————————–
Have a story you want USA Herald to cover? Submit a tip here and if we think it's newsworthy, we'll follow up on it.
Want guaranteed coverage? We also offer contract journalism here.  Just be sure you're comfortable giving up editorial control because our journalists are dogged and will follow the story through to the conclusion. The story will be published to our exacting standards, without regard for your preferred slant.
Want to contribute a story? We also accept article submissions — check out our writer's guidelines here.