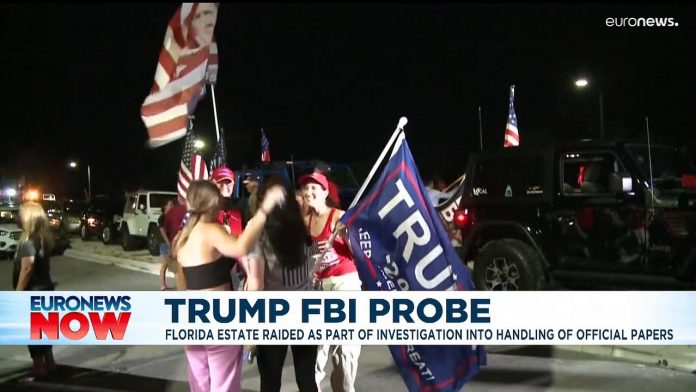 On Monday, former President Trump's Mar-a-Lago home in Florida was raided by the FBI.
The FBI reportedly arrived early in the morning and spent hours moving throughout the palatial Mar-a-Lago estate. Allegedly boxes were seized.
A source claimed that agents brought along a "safe cracker." And they broke into a "relatively new" safe in Trump's Mar-a-Lago office. Allegedly there was nothing in the safe.
Trump posted a message on Truth Social that the raid was in progress. And that his home was "occupied" and "currently under siege." He commented later that a large number of FBI agents broke into his safe.
Mara-Lago raided for classified documents
 There is speculation that the search of Mar-a-Lago was in connection with classified materials that Trump took with him after his presidential term. 
Those boxes allegedly contained "classified national security information." And other official correspondence with foreign heads of state.
Trump's attorneys were talking to the National Archives and Records Administration (NARA). And they returned 15 boxes of the presidential records.
In February 2022, the NARA notified Congress that the 15 boxes had been recovered. And "identified items marked as classified national security information within the boxes."
Politicizing the FBI
Lara Trump appeared Monday night on FNC's "Tucker Carlson Tonight." She said that the raid on former President Donald Trump's home, should shake Americans "to their core."
She said that after having spoken to her father-in-law, who is shocked by the unannounced raid by the FBI. And this has never happened before in the history of the United States.
"Everybody from my father-in-law's team has been cooperating with the FBI with any authority that asks for anything up until now. There was no need to make such a big scene, to do something this insane, quite frankly, to a former president. I think. Everybody clearly knows what's going on here. This is about weaponizing the justice system, as it has been so many times in the past against somebody who you politically do not like."
"They detest Donald Trump, not just on the Democrats' side but the general establishment, because he's not one of them because he doesn't play their game. They're terrified he'll announce he's running for president in 2024, and this is a convenient way to throw a little more mud on Donald Trump as though they haven't already done enough."
Trump Statement
"Nothing like this has ever happened to a President of the United States before. After working and cooperating with the relevant Government agencies, this unannounced raid on my home was not necessary or appropriate," Trump said. 
"It is prosecutorial misconduct, the weaponization of the Justice System, and an attack by Radical Left Democrats who desperately don't want me to run for President in 2024, especially based on recent polls, and who will likewise do anything to stop Republicans and Conservatives in the upcoming Midterm Elections." 
"Such an assault could only take place in broken, Third-World Countries. Sadly, America has now become one of those Countries, corrupt at a level not seen before," Trump said, alleging that the FBI agents broke into his safe.