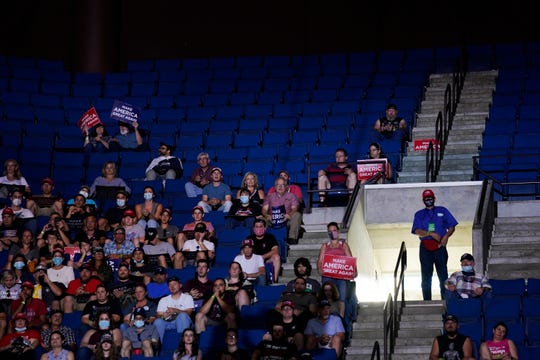 K-pop fans and TikTok users pranked President Trump's rally in Tulsa, reserving tickets for the rally with no plans to attend, falsely inflating the numbers of expected attendees.
Shortly after the rally was announced on twitter, K-pop fans began circulating the sign-up information, encouraging people to register and then not attend. It was then picked up by TikTok users who posted videos to the platform doing the same.
Because of the large numbers expected, there were plans for the President to address crowds directly before heading inside the BOK Center in Tulsa, Oklahoma. Brad Parscale, Trump's campaign manager, tweeted the day before the rally that anyone who wasn't able to get inside would still get to hear the President speak.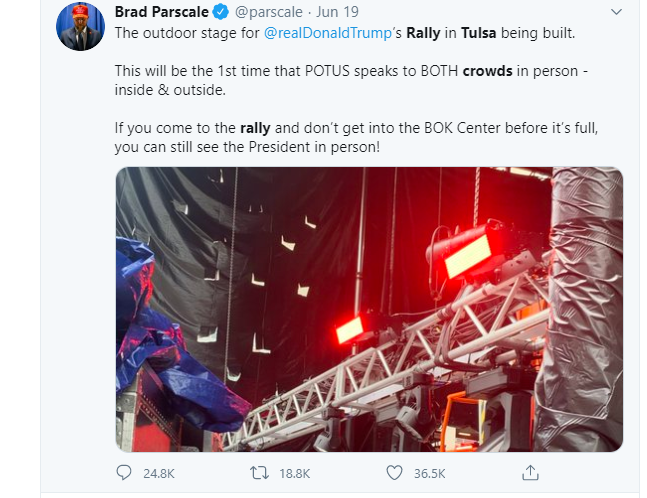 Plans for Trump to speak to overflow areas were ditched last minute when it became obvious crowd turnout was much lower than expected. Of the million people expected in attendance, only about 6,200 showed up.
The campaign team had bragged about the size of the expected crowds ahead of the rally,  prompting critics to later mock coverage showing empty grandstands.
Trump critics praised pranksters
The initial narrative supported by many media outlets was that K-pop fans and TikTok users were the sole cause of the disappointing crowds. A tweet from Rep. Alexandria Ocasio-Cortez, a long-standing critic of the President, seemed to support this narrative.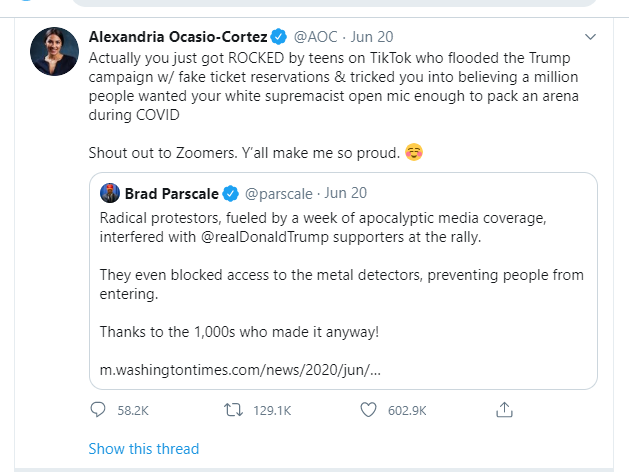 There was some pushback following the spread of these stories from the Trump campaign, who called reporters circulating the stories "unprofessional." They further asserted that bogus reservations are something that was taken into account when crowd turnout was estimated.
Many remain skeptical of how the Trump campaign could possibly have erred so badly if bogus reservations were accounted for.
Others pointed out that the U.S. is still in the middle of a pandemic and concerns over COVID-19 exposure could have played a part in the disappointing turnout.
COVID-19 concerns
Concerns had been raised ahead of the rally about COVID-19 exposure. Positive coronavirus cases had been rising in Tulsa, despite assurances from the White House about their "very low numbers."
Tulsa Mayor G.T. Bynam acknowledged the increase in coronavirus cases while also offering assurances that hospital capacity "remains strong."
It was announced that while face coverings would not be mandatory for rally attendance, masks would be available to those who wanted them and hand sanitizer would also be available throughout the stadium.
According to NBC, Trump was "fuming" at top aides before the rally had even begun when he learned that the campaign released information confirming that six members working the rally had tested positive for COVID-19.
The campaign made assurances that those who tested positive, and anyone they had been in contact with, would not be in attendance at the rally.
Two more Trump campaign members have since tested positive for coronavirus, bringing the total to eight, including two secret service members.