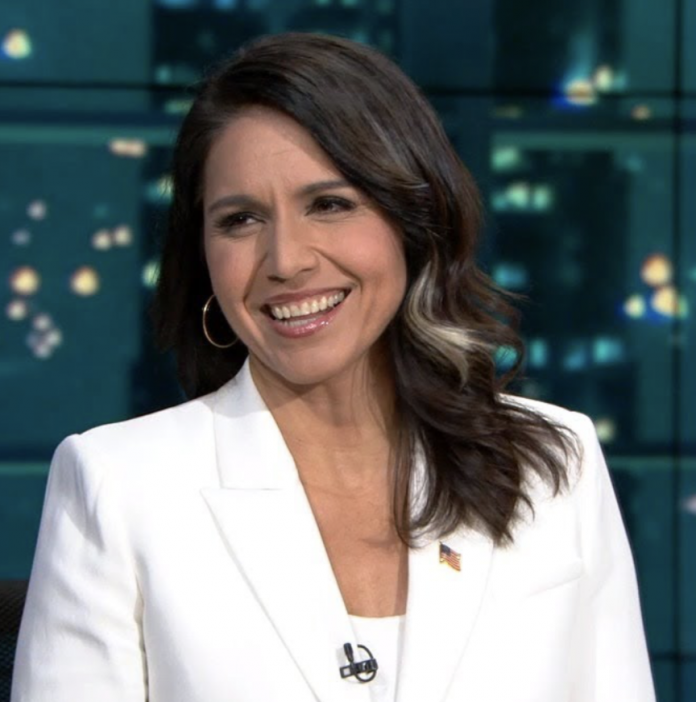 On Tuesday, 2020 Democrat Tulsi Gabbard made an appearance on the Joe Rogan podcast. Joined by Jocko Willink, Gabbard discussed issues relating to the 2020 presidential election and the collective political world.
You can view the podcast in full by clicking here.
Reviewing Gabbard's Remarks with Rogan and Willink
Gabbard's campaign to become the next president of the United States served as a significant focus of the 2.5-hour long podcast. The 2020 Democrat discussed her candidacy and the type of leadership she'd bring to the White House.
To be precise, Gabbard professed that putting the interests of the American people before partisanship and politics is something she'll always do.
Foreign Policy and the Clinton Machine
The issue of foreign policy and Gabbard's clash with Hillary Clinton also came up. When Rogan asked about Gabbard's response to Clinton's unfounded "Russian asset" accusations, Gabbard shared the following remarks:
"When you look at the media establishment pushing a lot of the same narrative and a lot of the same message, then you can see how someone gets away with calling a sitting member of Congress (a candidate for president, a soldier actively serving in the National Guard, veteran of two Middle East deployments) basically a traitor of the country that I love and that I'm willing to lay my life down for."
I love our country. It's why I decided to enlist after 9/11, why I serve in Congress, and why I'm offering to serve as your commander in chief — to protect you, our Constitution, our freedom. https://t.co/O84E20Lpio #TULSI2020 #TulsiGabbard #ServiceBeforeSelf pic.twitter.com/wTpDKShEUI

— Tulsi Gabbard (@TulsiGabbard) July 31, 2019
In the wake of Clinton's remarks about Gabbard, attorneys for the 2020 Democrat have urged Clinton to openly retract her statements.
Democrat Debates
The nature of Democrat debates is another important subject matter which Gabbard, Rogan, and Willink discussed. Gabbard warned that the conflict-driven debates are beginning to "turn off" Americans; however, the 2020 Democrat also stated that networks are "money-driven" to encourage conflicts between candidates, rather than allow for real conversations about plans and policies.
Backlash from the Democrat Party
Towards the beginning of the podcast, Gabbard discussed the often-unfair treatment which she faces from certain members of her own party.
Both Rogan and Gabbard agreed that it began in 2016 when the latter resigned from her post in the DNC after witnessing the party's treatment of Bernie Sanders.
Thank you @joerogan @jockowillink! Great conversation. Check it out, folks. Listen/watch and share! https://t.co/pYzMRLlPXw #Tulsi2020 https://t.co/6e0yqYagrJ pic.twitter.com/ODgVXUNuBL

— Tulsi Gabbard (@TulsiGabbard) November 27, 2019
Gabbard explained that experienced political figures warned her against dissenting from Hillary Clinton. She then brought things back to present-day, noting how certain figures on the left regard and speak about her candidacy.
This comes in spite of Gabbard checking several boxes which Democrats claim to value such as womanhood, veteran status, being a person of color, and having the ability to reach across the aisle.
What Comes Next for Tulsi Gabbard?
Last night, Gabbard spoke with supporters during a Rochester, New Hampshire town hall. The 2020 Democrat talked about her policies and answered various questions from attendees.
Gabbard's town hall lasted for about 45 minutes; she kicked things off by lauding the merits of gratitude and service. This came after thanking veteran attendees for their service to the country.
You can view the town hall in full below:
Tulsi Gabbard LIVE – Tulsi Town Hall – Rochester, NH #TulsiGabbard #Tulsi2020 #Tulsi https://t.co/yWoL5hClNx

— Tulsi Gabbard (@TulsiGabbard) November 27, 2019