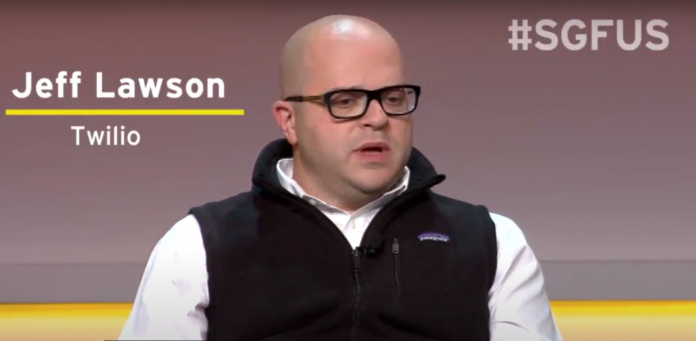 In a bid to scale up efforts to combat disinformation, Twilio CEO Jeff Lawson urged the United States government to take on the herculean task of regulating social media algorithms that play a role in perpetuating hate and misinformation.
Twilio, an American cloud communications platform earlier joined a burgeoning list of companies policing content and applications that perpetuate violence. The action comes on the heels of the U.S. Capitol riot last week.
"I think our government leaders should seek to understand the role of algorithmic systems in driving what we as consumers see and read every day because I think that is uncharted territory for how technology is affecting individuals all the way up to the societal level," Lawson told CNBC's "A View from the Top."
Lawson cited the role of government in understanding how social media algorithms work and "what they optimize for and what's the societal impact."
He said this is because "that's the biggest externality that you see today in some of the technology that society has not figured out what to do with it. And I think the impacts of it are pretty wide-reaching."
Lawson has confirmed it has ended Twilio's relationship with Parler, the alternative social network popular among conservatives and right-wing activists.
Apart from Twilio, companies Okta, Amazon Web Services, and Zendesk also pulled the plug on Parler in the past days. Social media firms and networks have faced mounting pressure to police speech and content that promotes violence in the wake of the U.S. Capitol insurrection.
Parler was earlier removed from the app stores run by both Apple and Google. Both companies assert that the social media app failed to moderate incendiary discussions.
In a statement, Apple said it has "always supported diverse points of view being represented on the App Store, but there is no place on our platform for threats of violence and illegal activity."
Lawson says hate speech and threats of murder are fringe stuff, not normal
Lawson, who publicly backed President-elect Joe Biden and even donated to his presidential campaign, cited how science and policy will take center stage as the new administration ushers in. 
He also downplayed claims that certain technological firms would begin to take on customers based on political leanings.
"What we're talking about here is hate speech and threats of murder," Lawson said. "That's not normal public speech that we're used to in our society. This is fringe stuff. What we're trying to say is that the vast minority of people who engaged in fringe talk of hate speech and murder and overthrowing governments, that's what's not allowed."
Have a story you want USA Herald to cover? Submit a tip here and if we think it's newsworthy, we'll follow up on it.
Want to contribute a story? We also accept article submissions – check out our writer's guidelines here.