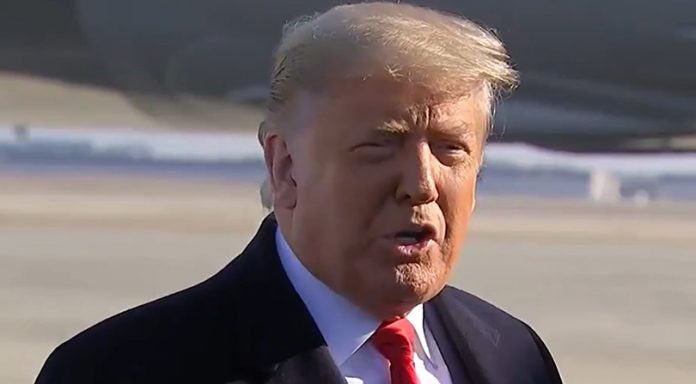 President Donald Trump headed to the Alamo on Tuesday to inspect a portion of the border wall. As he passed the White House press team, POTUS gave a few statements to support his previous announcement that he would like to help create a seamless and calm transition to the new administration as seen here.
When asked, President Trump called the House's push to impeach him again 'absolutely ridiculous' and told the press that he believes what Democrats are doing is increasing the unrest in our country.
The behavior of House Democrats is causing 'tremendous anger' among certain groups of individuals who have supported the President during his tenure in office.
Trump called it a "continuation of the greatest witch hunt in the history of politics." Despite denouncing the violence and destruction at the Capitol last week, and making a public statement that "those responsible will be dealt with swiftly," Democrats and some Republican detractors are ramping up their efforts to push another impeachment.
Prior to boarding Marine One and heading to the Alamo for his border wall inspection, President Trump explained his actions and assured Americans he is carrying on business as usual during his last few days in office.
Multiple reporters pounded him with questions regarding rumors that he would resign before the inauguration of President-elect Joe Biden. The President dismissed these questions and insisted that he will not be resigning and will continue to do the job he was elected to do.
Still, the House is voting on Tuesday to demand that Vice President Mike Pence invoke the 25th Amendment. The 25th Amendment to the Constitution addresses what happens to the presidency and vice-presidency if the President or Vice President dies, resigns or becomes incapacitated. Pence has shown no willingness to invoke the Amendment and is content to have the president ride out the remainder of his term.
For that reason, the House has already stated that they will be moving forward with voting on Wednesday to impeach the President a second time. All this comes with only eight days until President Trump is scheduled to leave the office.
The National Guard is stationed outside the Capitol as House Democrats work on bringing articles of impeachment against President Trump.
Have a story you want USA Herald to cover? Submit a tip here and if we think it's newsworthy, we'll follow up on it.
Want to contribute a story? We also accept article submissions – check out our writer's guidelines here.