The then 27-year-old was killed in a head-on collision in North Nashville. Although she was rushed to the hospital, both she and her 20-year-old passenger died from their injuries.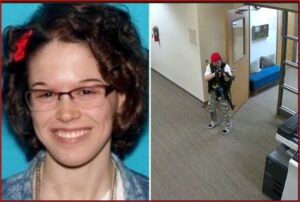 Twin says late Sydney Sims did not inspire murder spree
Hale sent the Sims family a floral tribute and attended Sydney's funeral in August. 
Taylor Sims denied allegations that her sister was involved with Hale in an Instagram post. And she claims that the story saying her sister inspired the mass shooter to act was "disgusting." 
'Please don't attach such a nasty, disgusting tragedy to my sister's name,' Taylor wrote. 'This is very sick and just goes to show people talk. Please leave my sister out of it.' 
Samira Hardcastle, who attended the Nashville School of Arts with both girls, claimed that Hale looked up to Sims. And continued to post "almost daily."  The "heartbroken" messages about Sim's death have since been deleted from social media accounts.
Hale attended the unveiling of a painting dedicated to Sims and posted a clip of herself silently bouncing a ball on TikTok with the caption: "For Syd. I look up the sky is bright. It's a beautiful day. I wish you were here…"