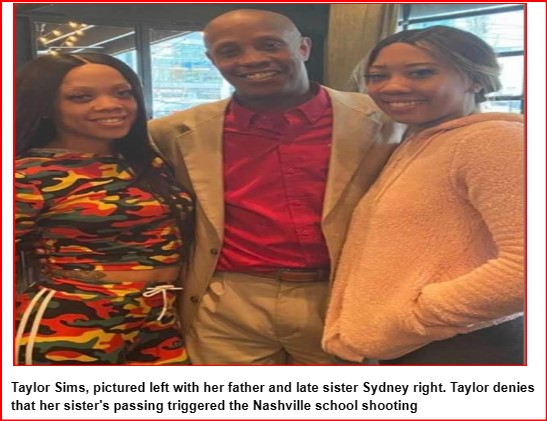 A report published in the Daily Mail on Wednesday suggested that the tragic car crash death of Sydney Sims, twin sister of Taylor Sims, left Audrey Hale heartbroken.  And may have been what led her to shoot up the Christian school in a Nashville murder spree.
Hale was the shooter of the recent massacre at The Covenant School in Nashville. And murdered six people on Monday.
Three students Evelyn Dieckhaus, Hallie Scruggs, and William Kinney (all aged nine), and three staff members Katherine Koonce, 60, Cynthia Peak, 61, and Mike Hill, 61, were all killed.
Hale was reportedly a transgender man who has been using he/him pronouns since last year. And the suspect's social media accounts indicate that Audrey refers to themselves as Aiden.
The trans shooter was reportedly infatuated with Sydney Sims. They played on the same basketball team in middle school, about 15 years ago. There is no evidence the two were romantically involved. Or even stayed in touch through the years.
Sydney went to Tuskegee University on a basketball scholarship. After college, she began working as a medical assistant and behavioral therapist.