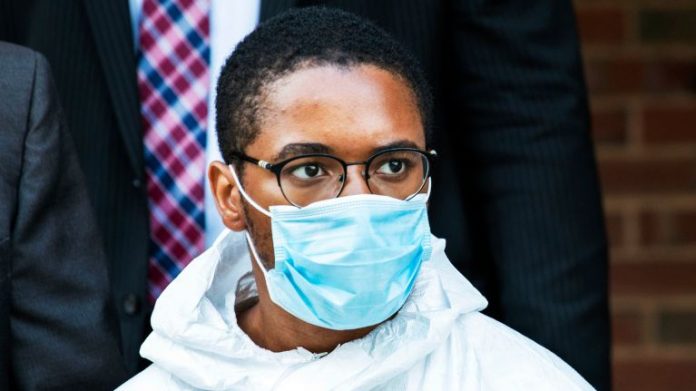 Police made an arrest in the murder of international tech entrepreneur Fahim Saleh on Friday morning. Saleh's former executive assistant Tyrese Haspil is being charged with second-degree murder.
The New York Daily News reported Haspil took $90,000 from Saleh's accounts. The global entrepreneur had offered to let Haspil make restitution and avoid criminal charges, and was instead tasered, stabbed, and then dismembered. 
Saleh's body was discovered Tuesday in his 7th-floor apartment of his Manhatten luxury condo. His dismembered body, along with the power tool used by the killer, was discovered by a family member.
Overwhelming evidence
Manhattan Assistant DA Linda Ford spoke of the overwhelming evidence at the suspect's Saturday morning arraignment.
Haspil, of Brooklyn, can be seen on surveillance video at Home Depot, buying a saw and cleaning supplies with his credit card. He also used his credit card to buy a taser prong that can be identified by a serial number. The prong was found in the body.
The New York Daily News reported that Haspil was trying to surprise Saleh by dressing in a black suit and tie, wearing gloves, and a full face ninja mask. CCTV from the elevator appears to show Saleh falling to the ground after leaving the elevator.
NYPD Chief of Detectives Rodney Harrison confirmed that Haspil was charged with second-degree murder on Friday. And he will be held without bail for trial. 
Haspil is being represented by the Legal Aid Society. His attorneys are Sam Roberts and Neville Mitchell. They read a prepared statement saying their client has no criminal record. 
"We are in the very earliest stages of ferreting out the truth. The life of this case promises to be long and complex. As the attorneys for Mr. Haspil, we urge the public to keep an open mind," said Haspil's attorneys.  
Saleh believed technology could transform lives
Fahim Saleh was only 33 years old, but he had an impressive list of achievements. He was born in Saudia Arabia to Bangladeshi immigrants who immigrated to America, making their new lives in Hopewell Junction, New York.
"His brilliant and innovative mind took everyone who was a part of his world on a journey and he made sure never to leave anyone behind," his family wrote.
The successful founder and CEO of multiple tech companies created his first start-up, WizTeen when he was just 16 years old. 
Saleh was also the CEO of Gokadang, a motorcycle ridesharing app based in Lagos, Nigeria. In a statement from Gokada, the company expressed grief, saying "We are deeply saddened to inform you about the sudden and tragic loss of our founder and CEO, Fahim Saleh."
He also co-founded another ridesharing company called Pathao based in Nepal and Bangladesh. 
"Fahim believed in the potential for technology to transform lives in Bangladesh and beyond," said Pathao's co-founder Hussein M. Elius in an interview with Bangladesh's Daily Star.
As the former CEO of KickBack Apps, he helped developed multiple phone-pranking apps like "PrankDial" and "PrankPad." He was also the co-founder of Adventure Capital.
Saleh's LinkedIn page says he was "finding good people, dodging oncoming traffic, and building value."
————————————————–
Have a story you want USA Herald to cover? Submit a tip here and if we think it's newsworthy, we'll follow up on it.
Want guaranteed coverage? We also offer contract journalism here.  Just be sure you're comfortable giving up editorial control, because our journalists are dogged and will follow the story through to it's conclusion. The story will be published to our exacting standards, without regard for your preferred slant.
Want to contribute a story? We also accept article submissions — check out our writer's guidelines here.