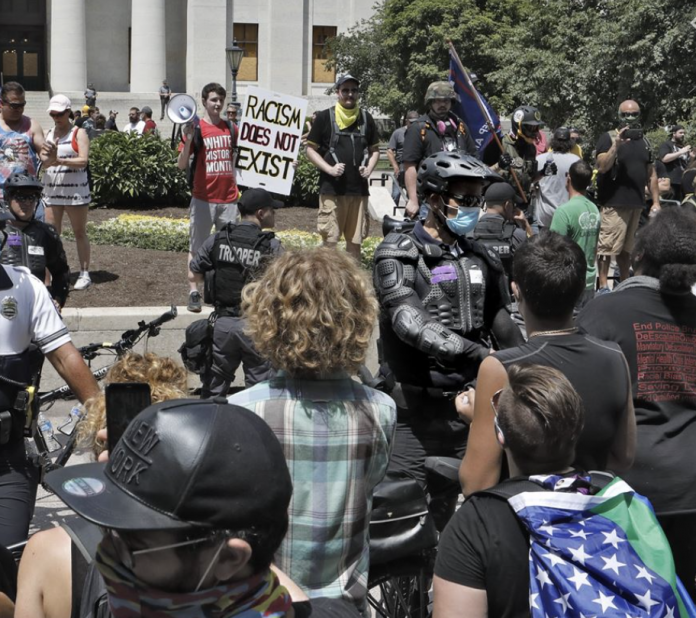 Face coverings continue to dominate national conversations, especially as America struggles to contain COVID-19. As a result, protests and lawsuits have popped up across the U.S.
Many Americans remain at odds about the science behind face masks and whether or not everyone should be wearing them on a consistent basis. It doesn't help matters that health officials have flip-flopped on the efficacy of mask-wearing.
Earlier this year, White House coronavirus task force director Dr. Anthony Fauci declared that Americans shouldn't walk around with masks. Fauci also stated that while face coverings may make people feel safer, they ultimately wouldn't provide real protection.
Since then, Fauci has done a swift about-face. Last week, the public health official called on state and local government to be as "forceful" as possible in getting individuals to wear face coverings.
This isn't going so well, though. On Saturday, Americans gathered at the Ohio Statehouse in order to protest face-covering mandates across certain Ohio counties.
What to know about the Ohio Statehouse protest
Hundreds of individuals congregated at the Ohio Statehouse to express grievances with face mask mandates. Participants held up signage condemning forced masking, tyranny, and big government. Suffice it to say, the protesters also declined to wear face masks during their time at the Ohio Statehouse.
Some participants in the protest also provided statements about their qualms regarding compulsory face coverings. One person noted the muddled science and mixed professional feedback regarding the true effectiveness of masks.
Other protesters raised inquiries about the truthfulness of information shared by the healthcare community. These questions come along with certain reports about contaminated coronavirus tests, false positives, and other questionable occurrences.
Many Americans also feel as though the World Health Organization (WHO) has flip-flopped on data regarding coronavirus transmission from asymptomatic individuals.
Rising dissent against compulsory face masking
Many politicians and public health officials are demanding that Americans "mask up." However, these demands appear to be triggering the opposite impact than intended.
A growing number of people are expressing qualms about face masking. This week, many giant retailers will require customers to wear face masks while shopping in their stores. This move has already prompted criticism from some consumers who are claiming they won't shop at these stores.
————————————————–
Have a story you want USA Herald to cover? Submit a tip here and if we think it's newsworthy, we'll follow up on it.
Want guaranteed coverage? We also offer contract journalism here.  Just be sure you're comfortable giving up editorial control, because our journalists are dogged and will follow the story through to it's conclusion. The story will be published to our exacting standards, without regard for your preferred slant.
Want to contribute a story? We also accept article submissions — check out our writer's guidelines here.