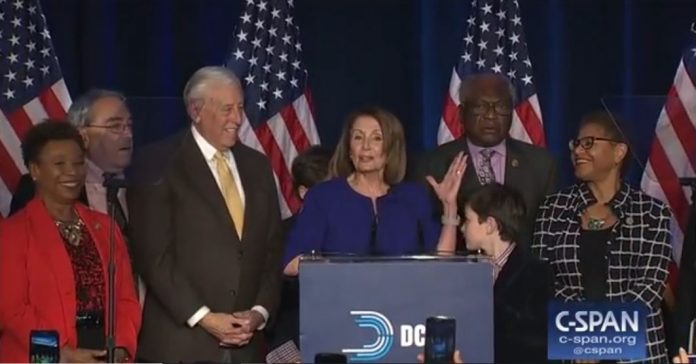 The Democrats regained control of the U.S. House of Representatives on Tuesday's midterm elections— a significant setback for President Donald Trump.
Around 10:00 p.m. Eastern Time, media outlets projected that Democrats flipped enough seats in multiple states including Colorado, Florida, New York, New Jersey, Michigan and Pennsylvania. Political experts predicted that Democrats could win as many as 35 seats in the House.
The Democrats' big victory in the House sends a clear message–Americans want more oversight of the Trump administration.
In her victory speech, Democratic Leader Nancy Pelosi congratulated the party's "dynamic and incredible candidates who've taken back the House for the American people."
Democrats will  restore check and balance 
Additionally, Pelosi said, "Today is more than about Democrats and Republicans. It is about restoring the Constitution and check and balance to the Trump administration. It is about stopping the GOP and Mitch McConnell's assault on Medicare, Medicaid, and Affordable Care Act and the health care of 130 million Americans living with pre-existing medical conditions."
Furthermore, Pelosi stressed, "It is about ending wealthy special interests' free reign over Washington. But more than anything, it is about what a new Democratic majority will mean in the lives of hardworking Americans."
She emphasized that Democrats work for the people. They will work on legislation to lower the cost of prescription drugs, raise workers' wages with strong economic growth, rebuild America's infrastructure, and clean-up corruption."
Democrats will strive for bipartisanship
Moreover, Pelosi promised, "We will drain the swamp of dark interest money in our elections. The Democratic Congress will be led with transparency and openness…We will have accountability and we will strive for bipartisanship and fairness on all sides…A Democratic Congress will work on solutions that bring us together because we have all had enough of division."
Trump congratulated Pelosi on the Democratic Party's victory and they talked about bipartisanship. Political experts believe that the Democrats and the president could work together on two legislative priorities— reducing the cost of prescription drugs and infrastructure investments.
It is likely that Pelosi will regain her position as Speaker of the House. However, it will not be easy for her to reclaim the speaker's gavel because she needs the support of 218 Democrats. A few members of her party already declared that they will not support her. However. Her aides and allies are confident that she will be able to do so.