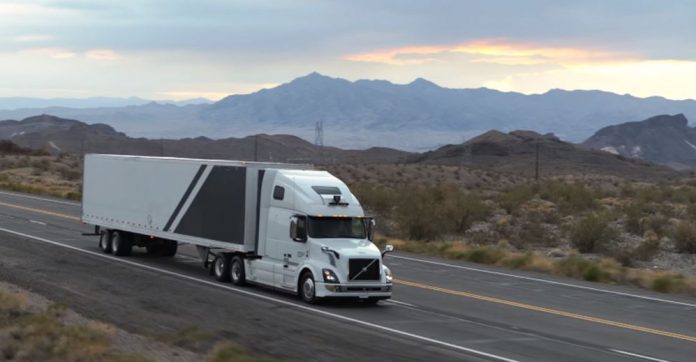 Uber Technologies announced that its self-driving trucks have been transporting goods across Arizona since November.
Arizona has become the primary destination for testing self-driving vehicles. Governor Doug Ducey wants the state to become the national leader for the development of the technology.
The governor recently ordered the elimination of unnecessary regulations and barriers to the self-driving technology. Therefore, it is not surprising that Uber is now operating its self-driving trucks across the state.
Uber self-driving trucks are operating in two Arizona transfer hubs 
On Tuesday, Uber disclosed that it started signing contracts with trucking companies to use its self-driving trucks earlier last year. The company did not reveal how many Uber Freight are currently operating in Arizona and the type of goods it is transporting.
The company is operating in two transfer hubs in Arizona. One in Sanders near the New Mexico border and the other is in Topock near the California border.
Currently, human drivers meet Uber's self-driving trucks at a transfer hub. They will then take their load across the state to another transfer hub and pass it to another trucker, who will make the delivery to the final destination.
Alden Woodrow, the head of self-driving truck development program at Uber said, "The big step for us recently is that we can plan to haul goods in both directions, using Uber Freight to coordinate load pickups and drop-offs with local truckers.
He also said, "We're not at the point where that system is running 24-7 at all times. However, he said that are hoping to reach a point where the company's autonomous truck will be able to complete the delivery process.
Uber wants to partner with trucking companies
When asked if Uber's technology will eventually eliminate jobs for truck drivers, Woodrow said no. It will actually create more jobs for them because of the decline in delivery costs. However, the nature of their job may change from long hauls to short distance deliveries.
Woodrow explained that Uber is focused on training its self-driving trucks on the high-way only. He also doesn't see the company running a fleet of autonomous trucks.
According to him, "Today we're operating our own trucks, but in the future it remains to be seen what happens. Trucking is a very large and sophisticated business with a lot of companies in the value chain who are good at what they do. So our desire is to partner."