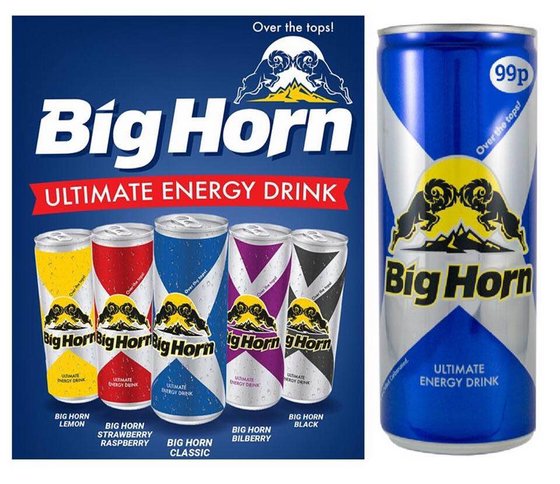 A UK judge ruled in favor of Red Bull GMBH on January 30, 2020, finding Big Horn UK Limited and Big Horn CEO Lyunomir Enchev liable for infringement of Red Bull trademarks.
The logos in dispute, pictured below, feature two rams facing each other against a yellow circular backdrop. Red Bull's logo features two bulls facing each other against a circular backdrop. Both logos depict the moment before impact. Like Red Bull, Big Horn also uses a blue and silver color scheme on their cans.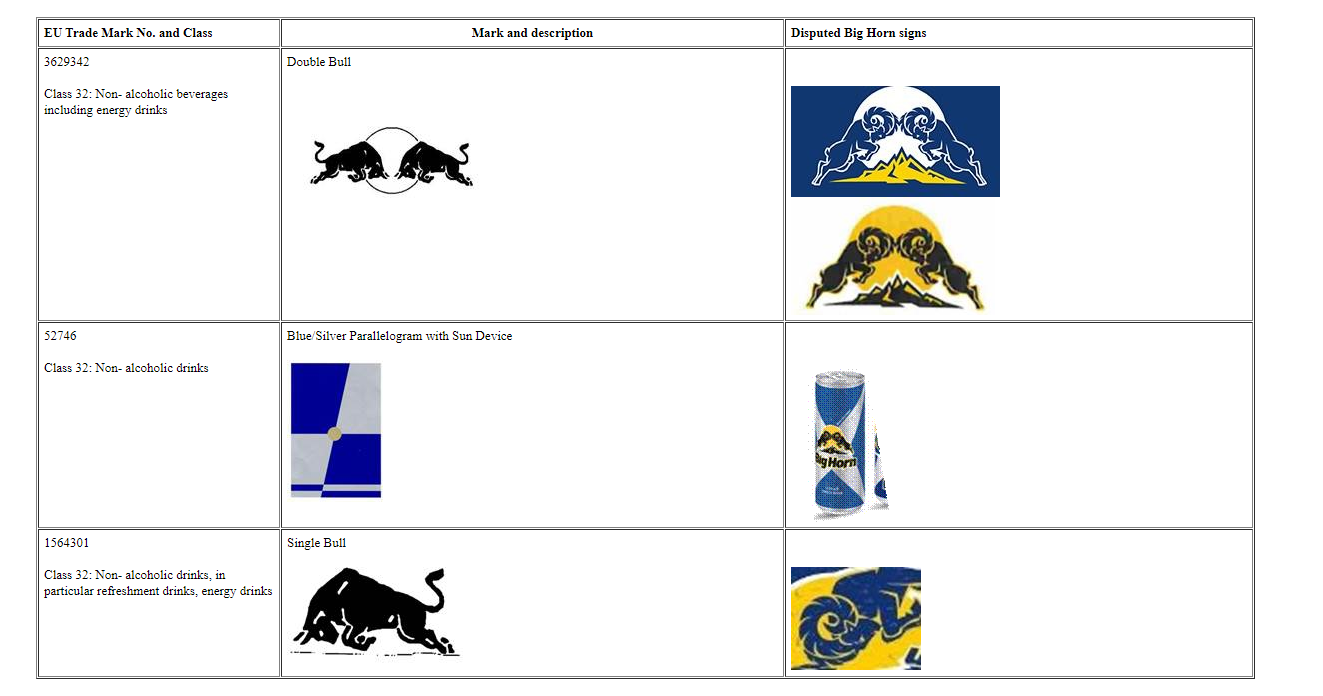 Red Bull is a globally popular energy drink brand with an estimated 2016 brand value of €15.111 million (approximately 16.18 million USD) according to Eurobrand.
According to court documents, Red Bull's complaint against Big Horn is that its logo, though not identical, is similar enough in design that the average consumer would make a connection between the two brands. Enough of a connection that the average consumer might consider Big Horn comparable to, or an off-brand version of, Red Bull.
Court findings
Big Horn and Enchev were found liable for infringement under Article 9(2)(c) of Regulation 207/2009 as amended by Regulation 2015/2424, and Article 9(2)(c) of the EUTMR.
Judge Kelyn Bacon QC found Big Horn's logo to be similar to Red Bull's both visually and conceptually. She stated In her ruling, "In those circumstances I consider that the Big Horn signs would indeed be likely to cause the average consumer to link those signs with the Red Bull trademarks, and that the use by Big Horn of those signs takes an unfair advantage of the distinctive character and reputation of Red Bull's trademarks."
Bacon also found Enchev liable as a joint tortfeasor. Under British Law, joint tortfeasance is determined by case precedence. Bacon cited Fish & Fish v Sea Shepherd [2015] UKSC 10, [2015] AC 1229, saying, "Those judgments confirm that a defendant will be liable as a joint tortfeasor if (i) the defendant has acted in a way that assisted the commission of the tort by the primary tortfeasor; and (ii) the defendant did so pursuant to a common design to do or assist with the acts that constituted the tort."
Enchev was directly involved in the running of Big Horn and was in charge of the domain for Big Horn's website and the running of its social media accounts on which Big Horn's products were advertised. Enchev also did not dispute that he was the sole director and controlling mind of Big Horn.
Case background
Red Bull has been pursuing trademark infringement against UK based Big Horn since late 2016. Red Bull filed an opposition to Voltino's EU trademark application in September 2016. The alleged infringements took place from November 2016 onward.
Voltino EOOD is the company that produces Big Horn energy drinks. Enchev incorporated his company, Big Horn UK Limited, in May of 2017 and began operating in the UK. Enchev was selling the Big Horn products using the logos under dispute.
Though the EUIPO (European Union Intellectual Property Office) Opposition Division rejected Red Bull's opposition in May of 2018, that ruling was overturned on appeal in January 2017. The EUIPO Board of Appeal rejected Voltino's application in its entirety at that time.
Since then, Enchev has claimed that starting March 1, 2019, he terminated his contract with Voltino and ceased advertising using the disputed Big Horn logo. However, in March there was still advertising on Big Horn's Facebook page using the disputed logo.
According to court documents, Enchev was under the impression that his company's use of the logo between the original EUIPO decision and the Board of Appeals decision was legal. However, Voltino was never granted their trademark and the initial rejection of Red Bull's opposition did not confer any legal rights.
This story is ongoing and USA Herald will continue to report on any updates.