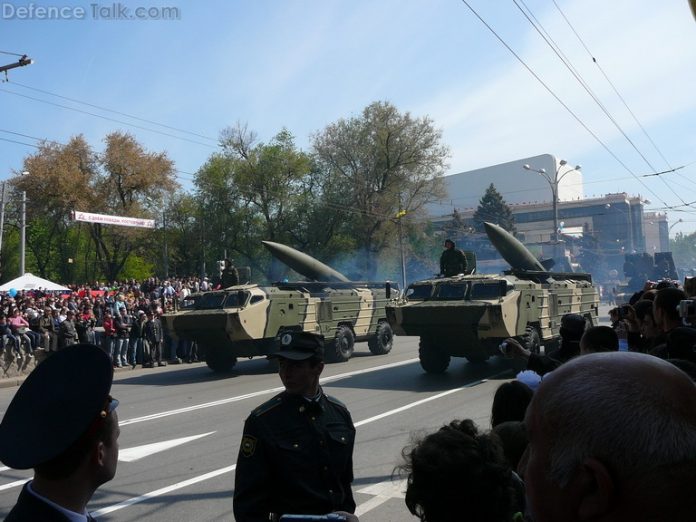 As the war with Russia enters its second month Ukraine's "attack big" and "attack-back" tactics are working. As part of a larger defensive strategy, they are bombarding military targets on the Russian side of the Russia-Ukraine border.
There were reports on Sunday that a strike took place in Bryansk, western Russia about 70 miles from Ukraine. Two oil depots that fuel Russian attack vehicles were attacked. After they were hit, they exploded and continued to burn the next day.
Ukraine has not accepted responsibility for destroying the oil depots. But there is not much chance of two identical industrial accidents occurring simultaneously, miles apart.
Ukrainian attack helicopters have crossed the border to attack Russian oil infrastructure and military staging areas. And there are reports of saboteurs targeting rail lines leading toward Ukraine.
Ukraine defensive strategy: Tochka
Tochka attacks are a primary method of disrupting Russian operations.
 The Tochka is a dated unsophisticated weapon. During the 1960's the Soviet Union the Tochka was developed as a surface-to-surface missile system. Successive generations of these rockets were the Soviet army's primary long-range deep-strike weapon for decades.
Ukraine has at least 90 Tochka launchers. And up to 500 missiles which have 250-pound warheads. There's no evidence the Russians have been able to destroy any of the launchers, so far. And the large arsenal makes the Tochka attacks the most sustainable.
Ukraine inherited the Tockha launchers when the Soviet Union collapsed in 1991. 
When the Russian forces attacked Ukraine the rocket-launchers were quickly deployed.
 On Feb. 25, a Ukrainian Tochka battery struck Russia's Millerovo air base twice. The base is located 60 miles east of the line of control between Ukraine and pro-Russian separatists' forces in Donbas. At least one Russian Su-30 fighter was confirmed destroyed on the ground.
On March 24, an Alligator-class landing ship, Saratov, which belonged to Russia's Black Sea Fleet was attacked and sank in Berdyansk southern Ukraine. Two landing ships moored nearby also suffered damage and casualties.
An ammunition depot in Belgorod, Russia was hit six days later on March 30. This action took place just 20 m, an ammunition depot exploded in Belgorod, just 20 miles from the border with Ukraine in Kharkiv.
In the days prior to the blast, videos circulated on-line depicting Russian S-300 air-defense batteries apparently engaging incoming Tochkas.
Intelligence from allies
Since early in the war, the US and its allies have been providing Ukraine with intelligence. US officials have all indicated that intelligence sharing with Ukraine was unprecedented since the country is not a NATO partner.
A National Security Council spokesperson said "'there has been a lot of real-time intelligence shared in terms of things that could be used for specific targeting of Russian forces. The details include satellite images and information on active Russian units.
'We are regularly providing detailed, timely intelligence to the Ukrainians on the battlefield to help them defend their country against Russian aggression and will continue to do so.' the spokesperson added.
Ukraine has also been successful at developing their own intelligence through seperate channels.
Real-time information was invaluable in assisting Ukraine when the Russians attacked a key airport near Kyiv.
Shared intelligence is a big part of Ukraine's defensive strategy. And has allowed the Ukrainians to not only resist Russian attacks, but also to retreat or move resources prior to an attack.