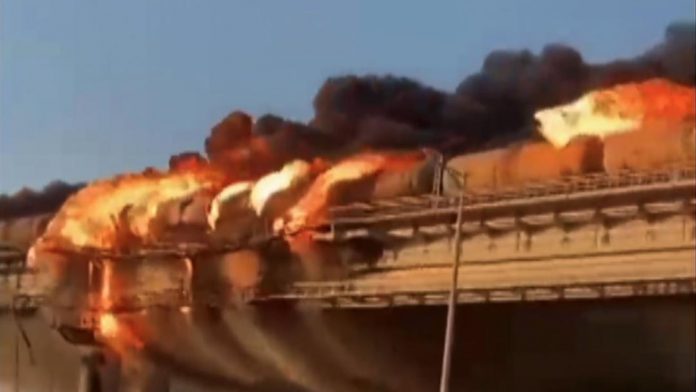 Footage of a Ukrainian strike on the Kerch Bridge was shared on Russian Telegram channels and news agencies. It shows a truck and a car, at the center of the blast of the structure which is taller than the U.S. Statue of Liberty.
This follows recent attacks on the Russian Saky military base in Crimea. And is part of Ukraine's attempt to cripple Russia's ability to use Crimea as a launch pad for its war efforts in south Ukraine.
Throughout social media, Ukrainians are celebrating the strategic hit on the 18-mile-long bridge from Russia to Crimea. 
Monobank the second largest bank in Ukraine has already issued a new debit card design featuring the collapsing bridge.
It has been Russian President Vladimir Putin's supposedly "untouchable" prestige project since it opened in May 2018.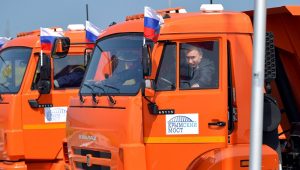 He drove an orange Kamaz truck across from Russia to the 2014 occupied Crimea. And claimed that it was the "construction of the century."
At the time Putin bragged that "In different historical epochs, even under the tsar priests, people dreamed of building this bridge. Then they returned to this [idea] in the 1930s, the 40s, the 50s. And finally, thanks to your work and your talent, the miracle has happened."
Happy Birthday to Putin
The Secretary of Ukraine's Natl. Security Council was quick to note that the Crimean bridge attack came one day after Putin's 70th birthday. Oleksii Danilov, tweeted a video of the burning bridge on a split screen of Marilyn Monroe's 1962 performance of Happy Birthday, Mr. President.