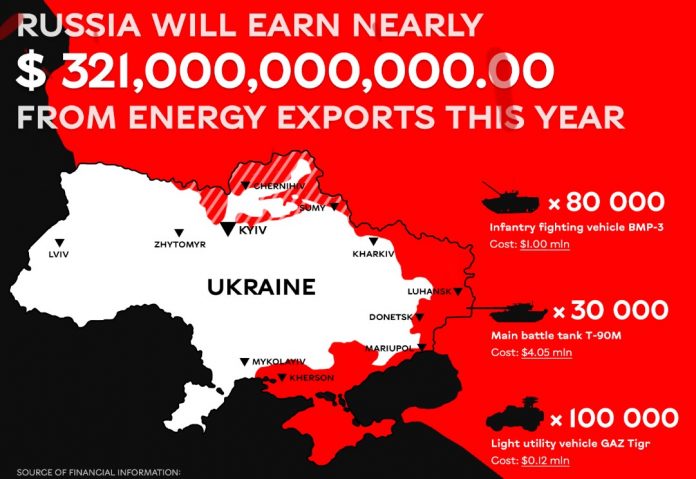 Ukraine energy companies set up a website to kick off the Stop Bloody Energy campaign.  Ukraine is claiming and documenting the "genocide" of its citizens. And they are trying to convince Europe that buying Russian oil and gas is financing "terror and genocide" in Ukraine.
Europe is still very reliant on Russia to meet its energy needs. 
The website sends a very clear message to the world.
Stop Bloody Energy statement 
"Every dollar paid for Russian energy is a dollar that supports a murderous war. You can no longer sit on the fence about doing or not doing business with Russian energy companies. And we have a clear message for those who haven't realized that: what your margins cover today is a specific number of Ukrainian children killed, homes destroyed, cities decimated and millions of lost or war-torn lives."
DTEK Group, NJSC Naftogaz of Ukraine, and NPC Ukrenergo called on Western companies to stop cooperation with Russia in the fuel and energy sector. We represent major Ukrainian energy companies coming together to build an expert platform to fight on the energy front.
We will expose every company funding this unprovoked war in the heart of Europe.
We will show your shareholders how many Ukrainians their money has murdered.
The only way to stop this war is to deprive the aggressor country of the means to finance it.
We are waiting for other experts to join us to expand the front in our fight against the enemy!"
On Thursday Ukraine President Volodymyr Zelenskyy shared a video on Instagram. And he is also renewing the call for Europe to stop buying Russian fuel.
The one-minute video went viral with over a million hits in 4 hrs. As viewers watch a message flash across the screen: "You don't pay in euros or rubles for Russian gas and oil.
"You pay in the lives of the same Europeans as you." And it asks the viewers why only Latvia, Lithuania, and Estonia have dared to "refuse funding genocide."
Ukraine's foreign minister Dmytro Kuleba also asked for Europe to take action. "As long as the West, let's put it this way, continues buying Russian gas and oil, it is supporting Ukraine with one hand, while supporting Russia's war machine with another hand."
However, Kuleba added: "People are dying today. The offensive is unfolding today. And we need steps which will stop Russia's war machine today."
Russian oil and gas in Europe 
The US has a total ban on Russian oil, gas, and coal imports.
The UK is trying to phase out Russian oil by the end of the year. And is searching for alternative supply sources.
And the EU is promising to reduce its Russian gas imports by two-thirds.
Germany is dependent on Russian oil and gas and remains tentative.
China and India are being offered deep discounts and continue to buy their energy from Russia.