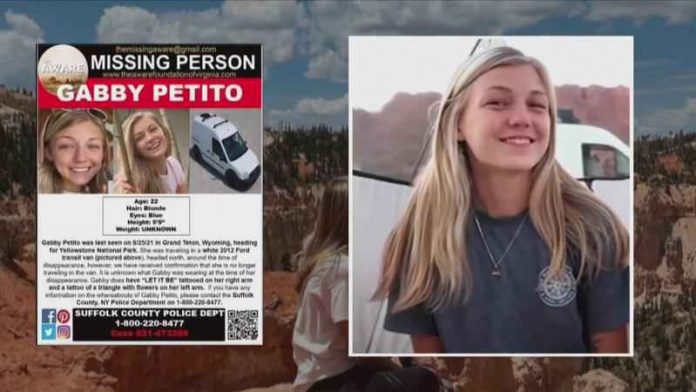 The Gabby Petito murder is now a search for her fugitive boyfriend. Teton County Coroner Dr. Brent Blue hosted a press conference via Zoom on Tuesday. Blue confirms his office's ruling of murder. And he also says that it was death by "strangulation."
Gabby Petito was the #vanlife social media influencer. And it was YouTubers who captured images of her van that led to the discovery of her body.
The Federal Bureau of Investigation (FBI) confirmed on Sept. 19 that the human remains were found near Grand Teton National Park and matched the description of the missing 22-year-old North Port, Florida woman. 
The FBI spokesperson said, at the time, a full forensic identification would be done by the Teton County Coroner.
Boyfriend only suspect
Her boyfriend, Brian Laundrie returned to North Port without Petito. And he was driving her camper van. He is accused of using her credit card to obtain $2,000 on the trip back to Florida.
Laundrie and his parents hired a lawyer when Petito's family was trying to find their missing daughter. The Laundries were instructed not to talk to authorities. 
With the discovery that Gabby did not return with Brian, the Petito family filed a missing person report. Brian and his family did not help with the search for the missing woman.
Following the discovery of Petito's body, came the disappearance of her boyfriend Brian Laundrie. 
Full forensics: Gabby Petito murder
According to the coroner, the full forensic autopsy is complete. And the remains are being prepared to return to her parents.
The Coroner did reveal that Petito's death was from strangulation. He also says that the woman was not pregnant. And Gabby had been dead for 2 to 3 weeks at the time of the discovery of her body.
By state statute, other details of the death are not being released. And although multiple questions were asked he was not able to answer.
A few days after Petito's body was found marked the disappearance of boyfriend Brian Laundrie.
The Laundrie family attorney, Mr. Bertolino tweeted that "Gabby Petito's death at such a young age is a tragedy. While Brian Laundrie is currently charged with the unauthorized use of a debit card belonging to Gabby, Brian is only considered a person of interest in relation to Gabby Petito's demise. At this time he is still missing. And when he is located we will address the fraud charges against him." 
Laundrie, 23,  remains the only person of interest in Gabby Petito's homicide case.
The search for the fugitive has been scaled down since the FBI took over. And it is now being "targeted based on intelligence," police said.