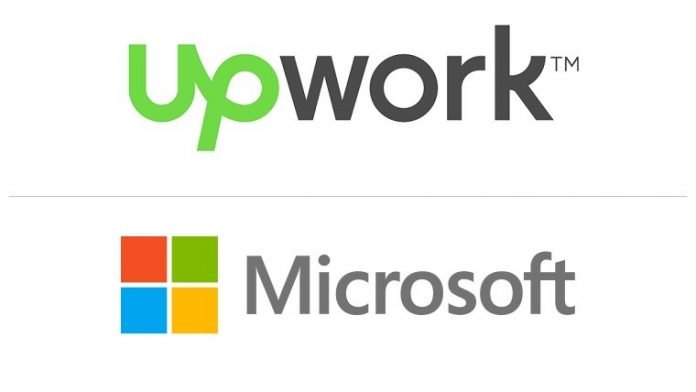 News of a recent partnership between UpWork and Microsoft has the rumor mill abuzz. While the agreement is designed to assist enterprises in building freelance teams, all signs point to a possible acquisition of UpWork by the tech giant in the future. This should come as no surprise, as UpWork's continued growth makes it an even bigger target for acquisition.
A Strong Business Model
Since its IPO in October 2018, UpWork has proven it belongs in the conversation of burgeoning tech companies. The company's model, which is a marketplace for freelancers and clients to connect and establish contract work, has revolutionized the hiring process. Whereas previously freelance work was spread out across a wide range of online networks and job sites, UpWork provides a singular solution for both freelancers and clients to communicate and build long-term working relationships.
The market for freelance work is only growing, and some studies predict the freelance market will make up the majority of the United States workforce by 2027. In a market with steady and consistent growth, UpWork has positioned itself perfectly to play a major role in the freelance economy of the future.
Building an Enterprise Warchest
An acquisition by Microsoft of this nature makes complete sense for the tech giant given its previous strategic moves. The company's acquisition of LinkedIn gives Microsoft a vast network and ecosystem of professionals and job seekers. This $26.2 billion deal brought in the over 400 million LinkedIn users at the time, while also allowed LinkedIn to remain an independent entity.
More recently, Microsoft acquired GitHub, a popular code repository, for $7.5 billion in Microsoft stock. In a smaller acquisition, the company added Glint, a human resources tool for employee satisfaction, for a reported $400 million. UpWork would make sense as another piece of the puzzle to fit alongside these other enterprise and business solutions for Microsoft.   
Using LinkedIn as a Model
On June 13, 2016, Microsoft acquired LinkedIn in a cash purchase valued at a total of $26.2 billion, or, $196 per share. The acquisition price equated to a 50% premium to LinkedIn (LNKD) shares at the time.
It wasn't just that Microsoft paid such a premium for LinkedIn, its that it did so at a time when the networking platform's stock price was falling rapidly. At the beginning of 2015, LNKD had surged past $250 per share and was looking like a force to be reckoned with. However, by March of 2016, its price was dropping quickly, falling close to $100. It turns out, while revenues were growing, the company's profits were falling, which scared off many investors.
Why did Microsoft pay such a premium? According to its CEO Satya Nadella, LinkedIn was seen as a key piece of maintaining growth for the company. Nadella noted in a press release, "Together we can accelerate the growth of LinkedIn, as well as Microsoft Office 365 and Dynamics as we seek to empower every person and organization on the planet," Nadella noted in a press release following the acquisition.
What this means for UpWork
It appears Microsoft may be viewing UpWork in the same vein as it once viewed LinkedIn: an upstart tech company with resources which could provide benefits to Microsoft in the future. Additionally, like LinkedIn, UpWork has seen its share price fall quickly over the past year, making its current valuation more appealing for a potential acquisition. This may be one of the main reasons why so many analysts have a buy recommendation on UPWK and believe in its long-term potential given its current valuation.
There is no guarantee that Microsoft will swoop in with an offer. However, having one tech giant watching over the company may attract even more suitors, like Google or Salesforce, down the line. This puts UpWork in a great position to provide its shareholders with significant future returns.