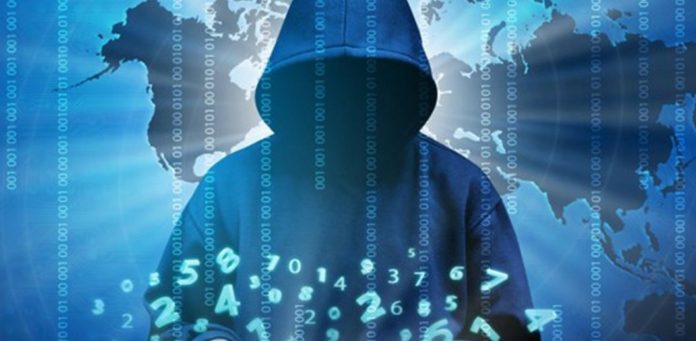 The United States government filed charges against six Russian hackers after a federal grand jury found that the defendants deployed the "world's most destructive malware to date."
The defendants' cyberattacks harmed thousands of U.S. and international corporations, organizations, political campaigns, and parties as well as foreign governments and other entities related to the 2018 Winter Olympics," according to the U.S. Department of Justice (DOJ) in a complaint.
The DOJ alleged that the six computer hackers are officers of the Russian Main Intelligence Directorate (GRU), a military intelligence agency of the General Staff of the Armed Forces of Russia.
The Russian hackers and the co-conspirators allegedly carried out cyberattacks to support Moscow's effort to undermine, retaliate against, or destabilize Ukraine, Georgia, and the elections in France.
They also tried to undermine efforts to hold Russia accountable for using a weapons-grade nerve agent called Novichok on foreign soil and for the Russian-government-sponsored doping by its athletes during the 2018 Winter Olympics in PyeongChang.
In a statement, Assistant Attorney General for National Security John C. Demers, said, "No country has weaponized its cyber capabilities as maliciously or irresponsibly as Russia, wantonly causing unprecedented damage to pursue small tactical advantages and to satisfy fits of spite,"
"Today the department has charged these Russian officers with conducting the most disruptive and destructive series of computer attacks ever attributed to a single group, including by unleashing the NotPetya malware.  No nation will recapture greatness while behaving in this way."
The Notpeya malware caused almost $1 billion in losses to victims including the Heritage Valley Health System in Pennsylvania, FedEx Corporation's subsidiary TNT Express B.V., and a huge U.S. pharmaceutical corporation.
U.S. Attorney Scott W. Brady for the Western District of Pennsylvania, said, "For more than two years we have worked tirelessly to expose these Russian GRU Officers who engaged in a global campaign of hacking, disruption, and destabilization, representing the most destructive and costly cyber-attacks in history."
He added, "The crimes committed by Russian government officials were against real victims who suffered real harm.  We have an obligation to hold accountable those who commit crimes – no matter where they reside and no matter for whom they work – in order to seek justice on behalf of these victims."
FBI identified and tracked the Russian hackers and their malicious cyber activities
Cybersecurity researchers with the Federal Bureau of Investigation (FBI) identified the Russian hackers and their malicious activities in the cyberspace using the labels "Sandworm team," "Telebot," "Voodoo Bear," and "Iron Viking."
The Russian hackers were identified as Yuriy Sergeyevich Andrienko, Sergey Vladimirovich Detistov, Pavel Valeryevich Frolov, Anatoliy Sergeyevich Kovalev, Artem Valeryevich Ochichenko, and Petr Nikolayevich Pliskin.
Below is the summary of the overt activities committed by the defendants: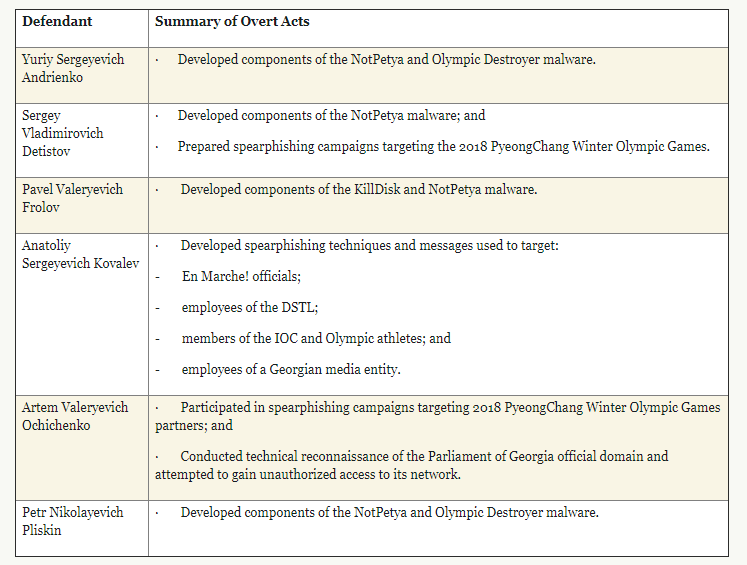 These defendants are facing seven counts of charges including conspiracy to conduct computer fraud and abuse, conspiracy to commit wire fraud, wire fraud, damaging protected computers, and aggravated identity theft.  Each defendant is charged in every count.
According to FBI FBI Deputy Director David Bowdich, the bureau "repeatedly warned that Russia is a highly capable cyber adversary, and the information revealed in this indictment illustrates how pervasive and destructive Russia's cyber activities truly are."
He added that the indictment also showed that the FBI "has tools to investigate these malicious malware attacks, "identify the perpetrators, and then impose risks and consequences on them."
"We will relentlessly pursue those who threaten the United States and its citizens," said Bowdich.
—————————————-
Have a story you want USA Herald to cover? Submit a tip here and if we think it's newsworthy, we'll follow up on it.
Want to contribute a story? We also accept article submissions – check out our writer's guidelines here.