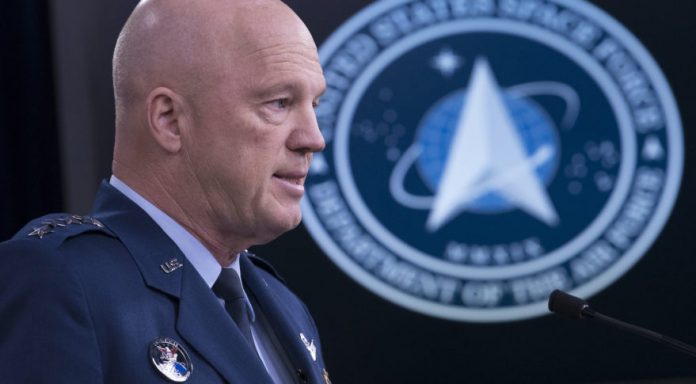 On Thursday, the 8-month-old U.S. Space Force accused Russia of testing an anti-satellite weapon from one of its satellites in orbit. 
General John "Jay" Raymond, the top general of the U.S. Space Force issued a statement. The U.S. is publicly accusing the Kremlin of carrying out a weapon's test in space. This is a troubling new development in the new space race.
The U.S. Space Command (USSC), better known as Space Force had "evidence that Russia conducted a non-destructive test of a space-based anti-satellite weapon." This is the first time Americans have publicly accused the Kremlin of carrying out an anti-satellite weapons test in space.
Russia in-orbit testing of an anti-satellite weapon
For months American intelligence analysts were tracking a pair of Russian satellites, identified as Cosmos 2542 and 2543. Or rather, they were watching one satellite which split into two crafts.
By mid-January, both Russian satellites had floated near a multi billion-dollar U.S. spacecraft known as KH-11, perhaps the military's most powerful spy tool, part of a reconnaissance constellation (code-named Keyhole/-CRYSTAL). The Cosmos satellites were either threatening or surveilling the KH-11. The intent was unclear.
After the U.S. expressed concern to Moscow, the pair moved away from the KH-11. Then on July 15, with the U.S. analysts still tracking them, the Russian satellite, Cosmos 2543, fired a projectile into outer space.
According to Time magazine, the Russian satellite that fired the projectile had itself detached from another satellite that was launched by Moscow in November. The newsweekly says that in January both satellites moved uncomfortably close to a powerful U.S. spy satellite named KH-11. After it got up close and personal to KH-11, the action was formally protested by the U.S. State Department.
According to Gen. Raymond, who is the Space Force's chief of space operations and commander of the U.S. Space Command, the Russian satellite system used in the test is the same one that prompted the U.S. to contact Russia earlier this year.
Kremlin denies weapon test
Russia's space agency ROSCOSMOS has confirmed that on November 25, a satellite was launched by a Soyuz-2 rocket from the Plesetsk cosmodrome launch site located 500 miles north of Moscow.
Moscow's Ministry of Defense downplayed the significance of what took place on July 15. According to the Associated Press, the Kremlin claims the event involved "a small space vehicle" that "inspected one of the national satellites from a close distance using special equipment." They say they did an "inspection" which provided valuable information that was transmitted to Russian ground control.
But the U.S. Space Force disputes this scenario maintaining there was a space weapon test launch.
"The Russian satellite system used to conduct this on-orbit weapons test is the same satellite system that we raised concerns about earlier this year when Russia maneuvered very close to a U.S. satellite."
US allies are concerned with Russian aggression
Russia's alleged testing of a weapon that the U.S. says may be aiming to destroy satellites drew universal condemnation.
The U.S. is "ready and committed to deterring aggression and defending the nation, our Allies and vital U.S. interests from hostile acts in space," General Raymond emphasized.
"We are concerned by the manner in which Russia tested one of its satellites by launching a projectile with the characteristics of a weapon," said Air Vice-Marshal Harvey Smyth, Head Of The UK's Space Directorate. "Actions of this kind threaten the peaceful use of space and risk causing debris that could pose a threat to satellites and the space systems on which the world depends. We call on Russia to avoid any further such testing. We also urge Russia to continue to work constructively with the UK and other partners to encourage responsible behavior in space."
————————————————–
Have a story you want USA Herald to cover? Submit a tip here and if we think it's newsworthy, we'll follow up on it.
Want guaranteed coverage? We also offer contract journalism here.  Just be sure you're comfortable giving up editorial control, because our journalists are dogged and will follow the story through to it's conclusion. The story will be published to our exacting standards, without regard for your preferred slant.
Want to contribute a story? We also accept article submissions — check out our writer's guidelines here.