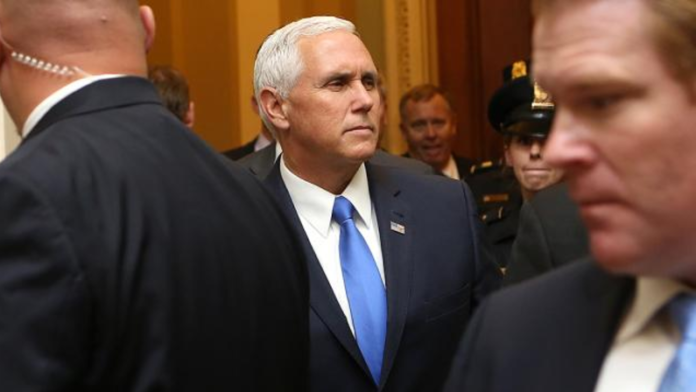 Earlier today, Vice President Pence made headlines after exiting an Indianapolis Colts game when San Francisco 49ers kneeled during the National Anthem. As reported by The Hill, the Vice President viewed the kneeling as an affront to America.
Further Remarks from the Vice President
After the Vice President's exit from the Colts game, he tweeted out the following messages:
"I left today's Colts game because @POTUS and I will not dignify any event that disrespects our soldiers, our Flag, or our National Anthem."
"At a time when so many Americans are inspiring our nation with their courage, resolve, and resilience…"
"…now, more than ever, we should rally around our Flag and everything that unites us…"
"While everyone is entitled to their own opinions, I don't think it's too much to ask NFL players to respect the Flag and our National Anthem[.]"
"I stand with @POTUS Trump, I stand with our soldiers, and I will always stand for our Flag and our National Anthem."
Standing vs. Kneeling for the National Anthem
Over the past few weeks, standing vs. kneeling for the National Anthem has become a highly controversial subject. "#TakeAKnee" and "#TakeAStandNotAKnee" have trended on Twitter several times. The American people seem to feel very strongly either one way or the other about this subject.
Those in favor of kneeling during the National Anthem generally cite perceived racism and injustices as their reason for refusing to stand. In their eyes, America is oppressive and discriminatory. People with this position have expressed their aversion to the National Anthem, the American flag, etc.
Conversely, those in favor of standing for the National Anthem feel very differently. They view the National Anthem as the great equalizer that unites the people of this nation, regardless of skin color. Americans who support the National Anthem are also very critical of those who kneel, stating that such an act is disrespectful to the people who have sacrificed and died for this nation.
The Vice President's decision was greatly lauded and praised on social media by conservatives and Trump supporters. Left-leaning Americans and those in favor of kneeling were more critical.