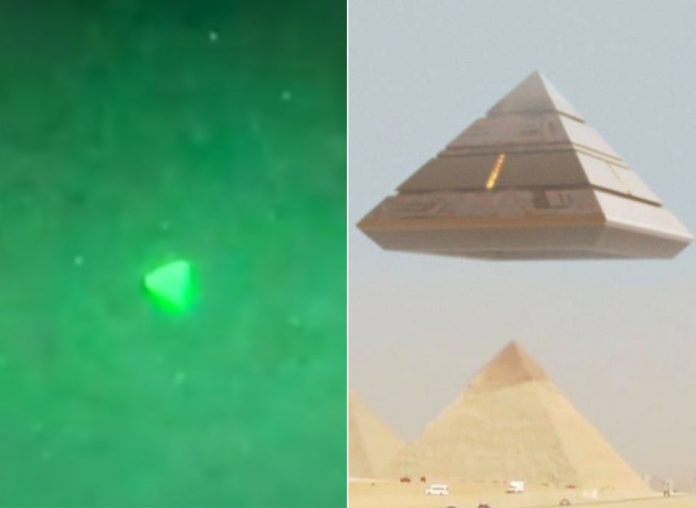 Leaked videos of a pyramid-shaped UFO have been taking the internet by storm. The Pentagon and the Department of Defense (DOD) confirm the videos were taken by Naval staff.  And the Pentagon says they are the subject of "Ongoing examinations" by the DOD's Unidentified Aerial Phenomena Task Force. The UAPTF was charted and set up in August.
UAPTF is promising to release a detailed June 1st report about recent sightings of UFOs. Since 2015 there have been a number of reports of unidentified aircraft lurking around various military-controlled ranges and designated airspace. 
Pyramid-shaped UFO Investigated by UAPTF
New York Post reports the grainy video footage taken in 2019, off of the San Diego coast, has never before been seen. The video shows pyramid-shaped unmanned aerial vehicles buzzing at least three Navy warships during military drills. According to the ship's logs, the video shows a UFO following a US destroyer for 90 minutes. 
Video captures a  pyramid-shaped UFO flying overhead. Other photos reveal more than one additional UFO described as a sphere-shaped "metallic blimp." 
"As we have said before, to maintain operations security and to avoid disclosing information that may be useful to potential adversaries, DOD does not discuss publicly the details of either the observations or the examinations of reported incursions into our training ranges or designated airspace, including those incursions initially designated as UAP," Pentagon spokeswoman Sue Gough says.
Some of the photos and videos of the pyramid-shaped UFO re-surfaced last week on several websites including Extraordinary Beliefs and MysteryWire.
In an interview, ex-intelligence director John Ratcliffe says "there are a lot more sightings than have been made public." And these sightings have been "all over the world."
Unidentified flying objects or Unidentified Aerial Phenomena sightings are at an all-time high. National UFO Reporting Center data shows more than 7,200 incidents were reported in 2020. That's 1,000 more than reported in 2019.
———————–
Have a story you want USA Herald to cover? Submit a tip here and if we think it's newsworthy, we'll follow up on it. 
Want to contribute a story? We also accept article submissions — check out our writer's guidelines here.