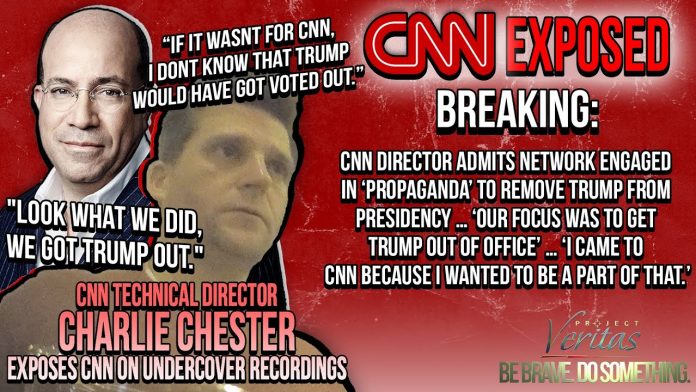 James O'Keefe, the founder of Project Veritas, announced that he is planning a legal fight. He is suing Big Tech giant Twitter and mainstream media channel CNN.
Twitter permanently banned the conservative activist and provocateur one day after he released an undercover report on CNN. And there have been growing cries of censorship.
The New York Post filmed O'Keefe with Veritas staffers, an attorney, and a media relations specialist surrounding him. The unusual media event was done with O'Keefe moving through several offices in his Westchester County headquarters. One of the offices had "The War Room" on the door.
Some of the footage was filmed in front of Project Veritas' Wall of Shame. And dozens of framed retractions by journalists were visible on film. A Post reporter and photographer got warnings from Project Veritas staff. The company insists that the confidentiality of the undercover operatives who work at the facility must be protected. 
CNN report "devastating"
The CNN report included secret recordings of CNN director Charles Chester admitting CNN was "trying to help" BLM and that they were intentionally reporting unverified anti-Trump "propaganda." The recordings also had Chester boasting about playing up the number of COVID deaths to get ratings.
"The CNN material was the most devastating material in Project Veritas history," O'Keefe claims. "It showed the nucleus, the heart, and soul of what's wrong with the media. Chester was proud of the fact that fear and propaganda sell. He was bragging about it."
"We're going to sue CNN and we're going to sue Twitter," O'Keefe, 36,  guerrilla journalist and activist said to The Post on Friday.
"We're going to sue a bunch of other people and we'll represent other people suing these organizations and represent a people's defamation defense fund under the country's libel laws — something that no one's ever done before," he insists.
O'Keefe and Project Veritas banned from Twitter
O'Keefe and Project Veritas were permanently banned from Twitter Thursday. This comes one day after their release of the CNN report. 
Twitter said it banned O'Keefe because he allegedly used multiple fake accounts to boost his following and tried to "artificially amplify or disrupt conversations through the use of multiple accounts."
O'Keefe denies ever using fake accounts. He said he got the boot for releasing his CNN exposé of CNN on Wednesday.
The same day O'Keefe and Project Veritas were banned, millions discovered they could not share another New York Post story. 
The story revealed Black Lives Matter co-founder Patrisse Khan-Cullors, a self-described Marxist, was in the process of buying four high-end homes valued at $3.2 million. The story was blocked on Facebook and Instagram.
This was a reminder of Big Tech's censorship of the Hunter Biden story. Just before the 2020 election, Big Tech blocked what should have been a major story. Twitter and Facebook erased the Post reporting of incriminating emails. The emails were found on a Hunter Biden laptop that had been left at a Delaware repair shop. Twitter CEO Jack Dorsey ultimately claimed that the blackout of the Biden story was "a mistake."
Facebook is claiming they blocked the BLM story for violating their community standards. They claim the Post was using "personal or confidential information" or images "in violation of their privacy rights." The Post insists all of the story information gathered from public records and no addresses were shared.
Twitter said it banned O'Keefe for allegedly using multiple fake accounts to boost his number of followers.
Project Veritas vs New York Times Victory
Last month, Project Veritas scored a legal victory in their defamation lawsuit. The state Supreme Court denied the New York Times motion to dismiss. This allows O'Keefe to move on to discovery. Project Veritas is hoping that the Times and its reporters will face close and uncomfortable scrutiny.
Project Veritas filed the suit against the Times last November, asking the paper to retract two stories about a Project Veritas video accusing Rep. Ilhan Omar (D-Minn.) of voter fraud. Two NYT stories called the Project Veritas video deceptive and probably part of a "coordinated disinformation campaign."
O'Keefe insists he is just getting started. He says his motivation is to expose how mainstream media and Big Tech are "lying to the people." O'Keefe is upset about being banned from Twitter. But the success, so far, in his legal battle with the Times gives him hope.
"I've been called a liar over and over," O'Keefe claims. "I've been through hell, been incarcerated, had my life upended."
Have a story you want USA Herald to cover? Submit a tip here and if we think it's newsworthy, we'll follow up on it. 
Want to contribute a story? We also accept article submissions — check out our writer's guidelines here.