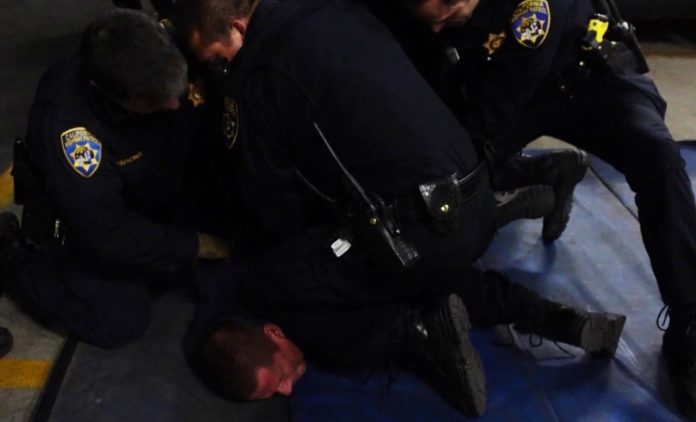 Edward Bronstein died in California two months before George Floyd's death in Minneapolis. A police officer killed him by kneeling on Floyd's neck. And there was widespread outrage. 
Bronstein's death hasn't gotten much attention. But the video was only released last month. 
The video was ordered to be released by a federal judge. And it will be a big part of the Bronstein family wrongful-death lawsuit. The suit was filed in December 2020. 
The family suing over the in-custody death is calling Los Angeles County District Attorney George Gascón to file criminal charges against the officers involved.
Edward Bronstein death video 
Edward Bronstein, 38, died early March 31, 2020. He was stopped by the California Highway Patrol. And they were forcibly taking a blood sample following a traffic stop. According to attorneys, the CHP was alleging he was driving under the influence.
The video shows a handcuffed Bronstein on his knees. He is in a parking garage in Altadena, a suburb of LA.
Bronstein is told there's a court order for a blood draw. Then five officers hold him down. One is kneeling on his neck and his face is very red.
The video reveals the 38-year-old handcuffed man being held down by 5 policemen. And repeatedly shouting "I can't breathe."  Before the struggle, he says he will comply with the blood test.
And when Bronstein claims he can't breathe he is told to shut up.  Then he falls silent.
The police act clueless. And spend vital moments trying to get a heartbeat before giving aid.
The family's attorney Michael Carrillo said, "Not one officer took the action to pull the others off of him. Pull him to the side, do something to give him air."
 "When they finally flip him over, he's lifeless," Carrillo adds.
Both the DA and the Los Angeles CHP have no comment due to the pending litigation.
Ultimately the Los Angeles County medical examiner ruled Bronstein's cause of death as "acute methamphetamine intoxication during restraint by law enforcement." And said the manner of death was "unknown." 
According to court documents filed by the state, prosecutors have been opposing the release of the video.