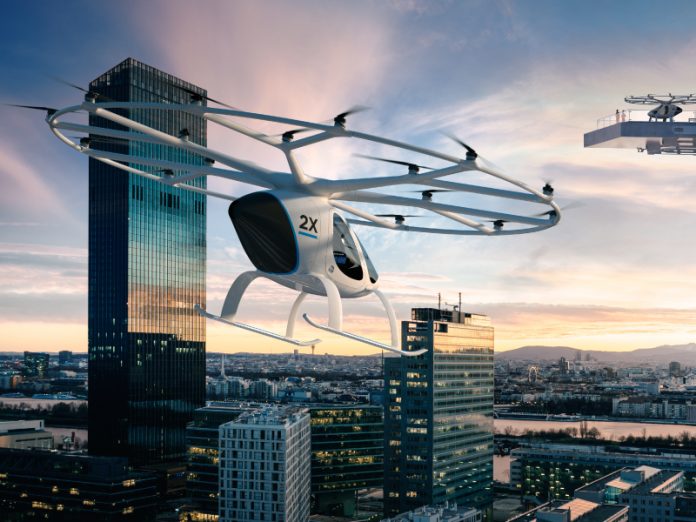 Volocopter, a Berlin-based air mobility start-up, is now accepting reservations for its upcoming electric air taxi flights called VoloFirst.  
There are only 1,000 available presale reservations for the VoloFirst flights, which last around 15 minutes. The ticket price is $355 (€300) but you can reserve your place with a 10% deposit.
There is a lot of uncertainty exactly when and where the flights will take place. Keep that in mind if you want to reserve a ticket.  
In a statement, Volocopter chief commercial officer Christian Bauer said, "While the final certification for air taxis is still pending, we do have a detailed realistic timeline to launch commercial VoloCity flights in the next 2-3 years. Moreover, those who reserve now can receive the latest updates about our progress and the commercial launch plan."
Volocopter specializes in the design of multirotor electric helicopters for taxi and eventually personal air vehicles. The company created a battery-powered, 18-rotor vertical takeoff and landing (VTOL) craft. It believes that its VTOL craft is the right prototype to fly the friendly skies.
Reservations for the VoloFirst flights are available via the Volocopter Reservation Platform.
Volocopter is a well-funded start-up
The German startup had the first-ever manned flight of a VTOL copter back in 2011, the year it was founded. It has since developed the 2X, a more commercial aircraft with two seats. 
In 2013, on the Seedmatch on-line fundraising website $588,120 (€500,000) was raised in 2 hours and 35 minutes. Volocopter still holds the European Union record for that effort.
The company topped up its Series C funding round to $94 million earlier this year, bringing its total raised to circa $132 million.
The marketplace is booming
Right now in the Vertical Mobility Market the sky truly is the limit. There are some interesting international competitors include Ehang UAV (NASDAQ: EH),  Airbus SE, American SureFly, Lilium, and Vahana. Each seems to have their unique vision of an air taxi or flying car. But there is plenty of room for individuality and innovation in this marketplace.
Air taxis are only one of the developing mobility options in cities around the world. Most companies are encountering an uncharted regulatory environment and a variety of sustainable transport concepts.
In the last few years, the Volocopter 2X took several successful test flights in some major cities. A flight took off near the Mercedes-Benz Museum in Stuttgart, Germany with a crowd of  12,000 people. And there have been flights in Singapore, Helsinki, Dubai, and in Bruchsal, Germany, where Volocopter has it's headquarters.
"Based on our public test flights and regulatory achievement record, we have paved the way to make the electric flight in cities common in just a few years. With the start of reservations, we now invite our supporters and innovators around the world to join us and be amongst the first to experience this new and exciting form of mobility," said Volocopter CEO Florian Reuter.
—————————————-
Have a story you want USA Herald to cover? Submit a tip here and if we think it's newsworthy, we'll follow up on it.
Want to contribute a story? We also accept article submissions — check out our writer's guidelines here.